Amada
Iron Chef Jose Garces' first Philadelphia restaurant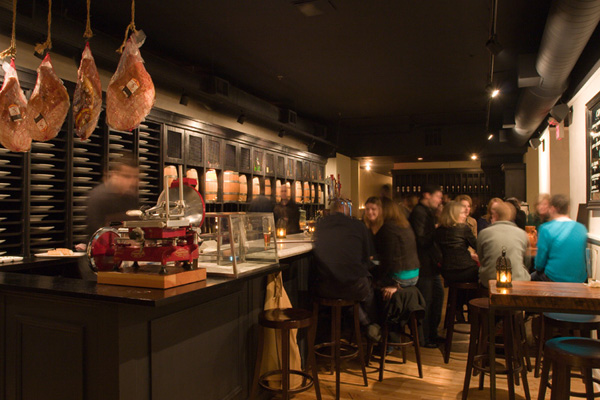 Description
The Experience
When you walk into Amada, you can't help but feel a certain aura of energy and excitement. The restaurant's design invokes the essence of a traditional Spanish tapas bar while simultaneously exuding a hip and stylish European / Bohemian vibe. And the buzz from happy patrons is highly contagious.
The space is divided into two main areas: the bar area, where you can enjoy a selection from Amada's extensive wine offerings, all of which are available by the glass; and the dining area proper, where conversations at lantern-lit tables seem to be in rhythm with the restaurant's flamenco-influenced electronic soundtrack.
But both areas are perfectly suitable destinations in their own right.
Over the bar hang real, 18-month-cured jamones (Spanish Serrano hams). Barrels of sangria — the blanco variety of which is outstanding — fill open cabinets behind the bar. Small elevated tables, down the length of the bar, are great for casual meetings.
Grab a seat and enjoy a few of the bar's famed Pedro Almodovar-themed cocktails (the 'Bad Education', an orange mojito, is very popular) while snacking on the delicious charcuterie, featuring superb, cut-to-order meats and divine Spanish cheeses, all served with complementary garnishes.
And while Amada, which means "loved one," is an authentic Spanish tapas restaurant, i.e. its extensive menu consists mainly of small dishes, it is nevertheless a highly recommended choice for a complete dinner.
Making Your Way Through the Menu
For starters, don't be intimidated by Amada's large menu. Yes, there are more than 60 tapas to choose from, varying from the traditional — tortilla española, Spanish olives and warm fava bean salad— to the edgy — foie gras flatbreads and artichoke and spinach empanadas — but everything on the menu is outstanding.
The charcuterie is excellent. The European hand slicer behind the bar produces plates of Pamplona-style chorizo, salchichons (pepper-cured sausage), lomo embuchado (dry-cured pork loin) and Serrano ham that will melt in your mouth.
After moving beyond the meats and cheeses, you'll encounter even more succulent options: paprika- and garlic-dusted Spanish octopus, grilled and skewered diver scallops, crab-stuffed piquillo peppers, a signature green plantain empanada (mentioned above) and roasted pork with white beans — to name but a few.
Several tapas come in two sizes to accommodate sharing and there are also a few large dishes, including paellas and a whole roasted suckling pig, that are meant for four or more.
So bring your appetite, savor every bite and, by the time you leave, you will already be planning your next visit to Amada.
Tapas For Lunch
The Catalan Express, offered for lunch Monday through Friday, includes a bowl of soup, a non-alcoholic beverage and a salad or sandwich. At just $14.50, it's one of the most cost-effective ways to sample Chef Garces' culinary genius.
PATH: http://www.uwishunu.com/tag/amada/feed/image/
March 21, 2014Bring Your Appetite To Amada As It Hosts An All-You-Can-Eat Suckling Pig Feast, This Sunday, March 23

January 6, 2014Chef Talk: Philadelphia's Iron Chef Jose Garces Dishes On Favorite Restaurants, Best Markets, Secret Finds And More

August 12, 2013Roundup: Our Top Picks For Mexican, Spanish, Central American, South American Dining In Philadelphia

May 7, 2013Roundup: Celebrate Mother's Day Across The City With Brunch, High Tea, Alfresco Fairs, Arts Events And More

Uwishunu covers everything fun and exciting happening in Philadelphia — read it daily for the latest on restaurants, bars, events, festivals, arts, music, hotels and more.
Details
Get Directions
217-219 Chestnut Street
Philadelphia, PA 19106
(215) 625-2450
Website
Make a reservation
In the neighborhood
Accommodations

Museums & Attractions

244 S. 3rd Street Philadelphia, PA 19106
(215) 627-0364
Website

View more attractions

Restaurants & Dining

22 S. 3rd Street
Philadelphia, PA 19106
(215) 701-4883
Website

View more Restuarants & Dining
Find us on Facebook