The 12 Biggest Events For Philly Beer Week 2015
10 days of events and festivals during the citywide celebration of beer, May 29 – June 7
Philadelphia shows its adoration for great beer over 10 days of dinners, festivals, tastings and pub crawls during Philly Beer Week (May 29 – June 7).
Established in 2008, Philly Beer Week is the largest beer celebration of its kind in the United States, featuring hundreds of events and serving up countless pints of beer throughout Greater Philadelphia.
With so many events taking place throughout the city over 10 days, it's tough for a Beer Week attendee to know quite where to begin.
So we've "poured" through the Philly Beer Week event listings and below are our picks of sudsy highlights.
Philly Beer Week Major Events
Hammer of Glory Relay
Friday, May 29
The iron-clad symbol of Beer Week — a big branded mallet called the Hammer of Glory — makes its way around the city, from bar to bar, transported by everything from dog-pulled carts to a parade of pin-up girls. Trail the hammer around town to such bars as Johnny Brenda's, Standard Tap, Saint Benjamin, London Grill and more before it makes its way to Opening Tap at the 23rd Street Armory.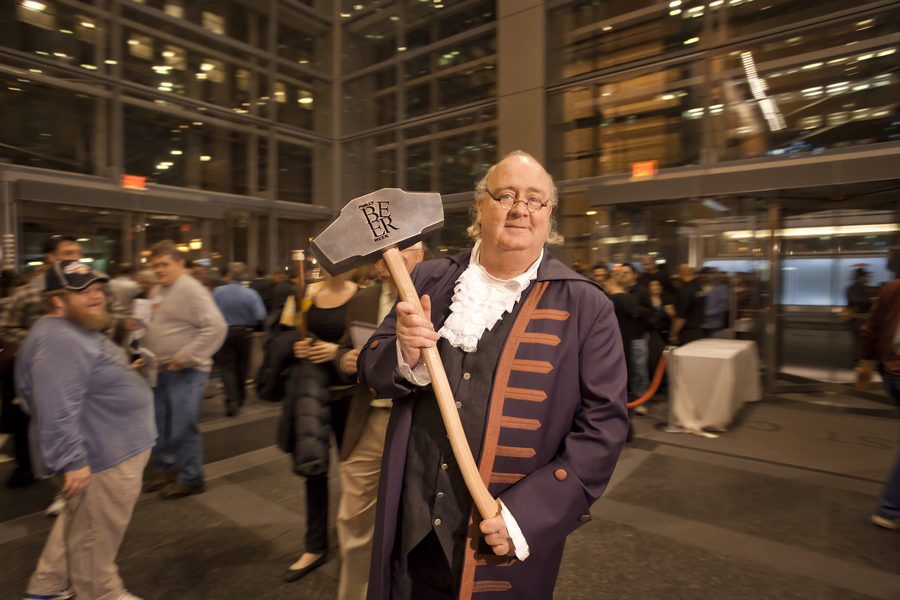 Ben Franklin with the Hammer of Glory. (Photo by G. Widman for Visit Philadelphia)
The HOG Relay starts in Northeast Philadelphia before making its way to Center City.
Opening Tap Celebration at 23rd Street Armory
Friday, May 29
This year, the huge Opening Tap kick-off party returns to the 23rd Street Armory on Friday, May 29. At 7 p.m., the doors open on the tasting celebration with more than 40 area brewers pouring for a crowd of thousands. Look out for limited edition brews, including the Philly Beer Week collaboration beer Leuven on a Prayer, brewed this year by Belgian brewers Brouwerij Hof ten Dormaal and local brewery Free Will.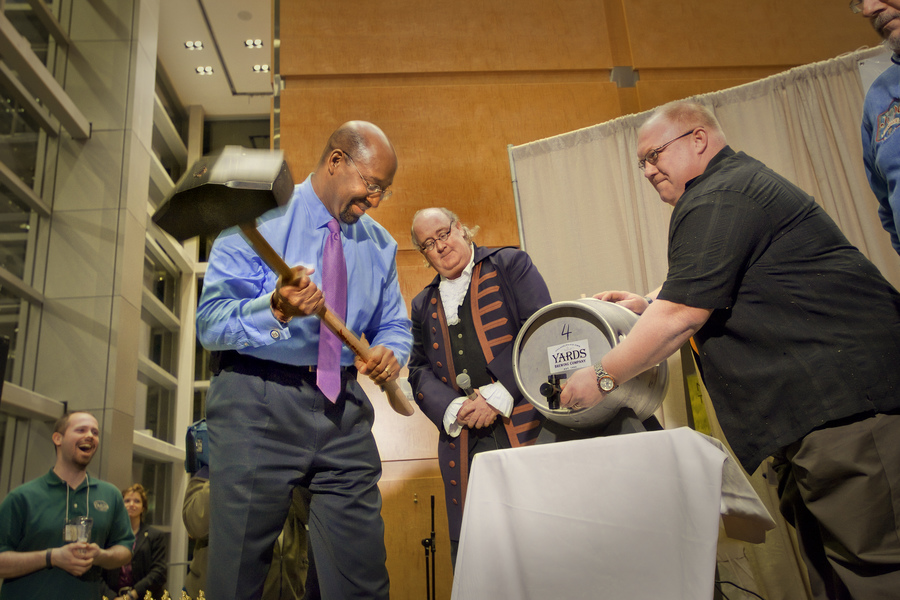 Mayor Michael Nutter traditionally swings the Hammer of Glory to open the ceremonial first keg of Philly Beer Week during the Opening Tap celebration. (Photo by G. Widman for Visit Philadelphia)