The 15 Biggest Events
for Philly Beer Week 2016
10 days of events and festivals during the citywide celebration of beer, June 3-12
Once a year, Philly Beer Week fires up the city's already brew-tastic craft beer scene with hundreds of festivals, dinners, pub crawls, tastings and brewer events at pubs, restaurants, parks and other locations throughout the entire Philadelphia region.
Established in 2008, Philly Beer Week is the nation's largest beer celebration of its kind, lasting 10 sudsy days from June 3-12, 2016.
With over 100 locations hosting events, it can be tough for a Philly Beer Week attendee to know where to begin. We've pored through the event listings to highlight more than a six-pack's worth of top picks.
Check them out below!
Hammer of Glory Relay
Friday, June 3, 2016
The iron-clad symbol of Beer Week — a big branded mallet called the Hammer of Glory — makes its way around the city from bar to bar all day long, transported by everything from horse-drawn carts to a parade of roller-derby girls. Trail the hammer around town (via Twitter or in person) to such bars as Johnny Brenda's, Standard Tap, Saint Benjamin Brewery, London Grill and more before it makes its way to Opening Tap at The Fillmore Philadelphia.
Opening Tap Celebration at The Fillmore
Friday, June 3, 2016
This year, the huge Opening Tap kick-off party hits Fishtown music venue The Fillmore Philadelphia on Friday, June 3. Join hundreds of craft-brew lovers for the official Beer Week kick-off party, a tasting celebration with more than 40 brewers pouring tons of suds, including limited-edition brews like the Philly Beer Week collaboration beer.
International Great Beer Expo
Saturday, June 4, 2016
Philly Beer Week makes its way down to the Navy Yard as the Great Beer Expo brings brews from more than 60 breweries to a sudsy festival for those over the age of 21. Purchase tickets online to enjoy drinks from more than 60 breweries including Manayunk, Troegs, Victory, Goose Island, Two Roads and more. A number of ciders will be available, too, like Wyndridge and Doc's.
more on international great beer expo
The official Philly Beer Week Beer Garden at Spruce Street Harbor Park
June 3-12, 2016
Head to the awesome outdoor space at Spruce Street Harbor Park on the Delaware River Waterfront for the official Philly Beer Week Garden to enjoy special one-offs and rare brews alfresco, plus live tunes and food. Admission is free, with brews and bites on a pay-as-you-go basis.
more on Philly Beer Week Garden
6th Annual Fried Chicken Run
Saturday June 4, 2016
On Saturday, a brisk jog with the Fishtown Beer Runners from Philadelphia Brewing Company (PBC) to American Sardine Bar justifies an all-you-can-eat fried chicken dinner. Start the run (or cheer on the runners) at 5 p.m. in Fishtown, then relax with a huge chicken dinner in Graduate Hospital. Tickets are available online and include a T-shirt, one PBC brew and fried chicken.
East Passyunk Craft Beer Day on East Passyunk Ave.
Sunday, June 5, 2016
Craft beer flows along East Passyunk Avenue Sunday when Craft Beer Day returns to the neighborhood. Bars and restaurants throughout the area host special events including an outdoor beer bar at Stogie Joe's, an outdoor grill at Le Virtu, tap takeovers and more. Sunday's event coincides with the Italian National Day Street Festival, a block party from Moore to Broad streets on East Passyunk Avenue with food, music and more.
More on East Passyunk Craft Beer Day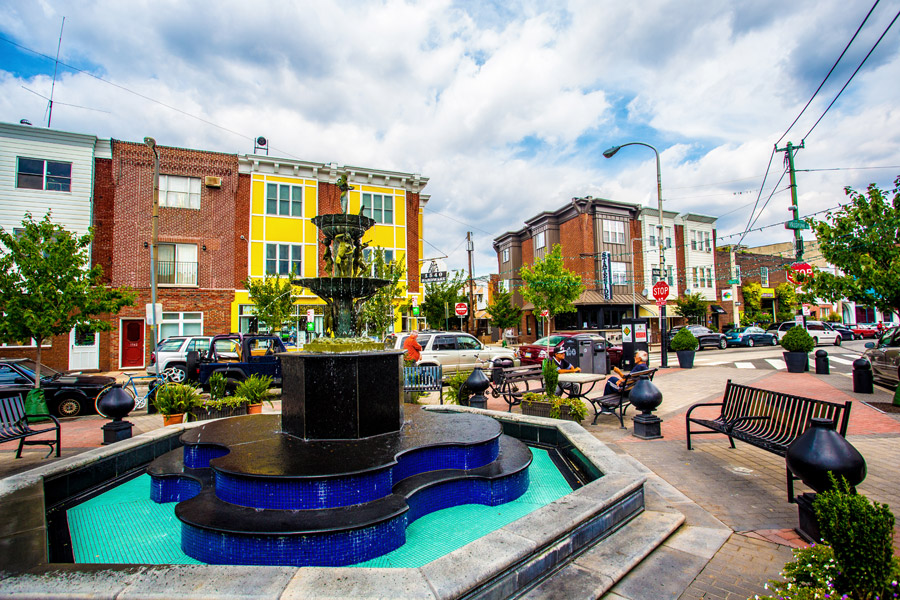 Explore East Passyunk's stellar food and bar scene during East Passyunk Craft Beer Day. (J. Fusco for Visit Philadelphia)
Throwdown in Franklintown at the Kite and Key
Sunday, June 5, 2016
Now in its seventh year, the Throwdown in Franklintown at the Kite and Key pits Yards Brewing Company founder Tom Kehoe against Kite and Key's Jim Kirk in a battle royale. The two beer titans have fought as Sumo wrestlers, gladiators and more, and others have since joined the fight, including Greg Lehman of Victory Brewing Company and Nick Johnson of Troegs Brewing Company.
More on Throwdown in Franklintown
Pinewood Derby and Bike Races with Yards Brewing Company
Sunday, June 5, 2016
Old Eagle Tavern returns with its annual derby racing Beer Week event, allowing you to bring your own wooden car or borrow one of the bar's in order to get in on the friendly competition. A firkin will be tapped and plenty of local brews will be available for purchase.
More on pinewood derby and bike races