The 12 Biggest Events For Philly Beer Week 2015
10 days of events and festivals during the citywide celebration of beer, May 29 – June 7
Philadelphia shows its adoration for great beer over 10 days of dinners, festivals, tastings and pub crawls during Philly Beer Week (May 29 – June 7).
Established in 2008, Philly Beer Week is the largest beer celebration of its kind in the United States, featuring hundreds of events and serving up countless pints of beer throughout Greater Philadelphia.
With so many events taking place throughout the city over 10 days, it's tough for a Beer Week attendee to know quite where to begin.
So we've "poured" through the Philly Beer Week event listings and below are our picks of sudsy highlights.
Philly Beer Week Major Events
Future Sensations at The Oval
May 30-June 6
Philadelphia is the only U.S. city to host Saint-Gobain's never-before-seen traveling exhibit Future Sensations, a high-concept, immersive experience featuring five distinct "ephemeral pavilions." Through science, storytelling and art, each pavilion will offer a 3-D walk-through encounter that will be completely free and open to the public. Future Sensations will take over The Oval with five 20- to 30-ton pavilions that offer visitors a live digital experience merging 21st-century technology with imaginative arts. When done, visitors can grab a beer from the on-site beer garden as well as food from one of the nearby food trucks.
Future Sensations will offer visitors an interactive, sensory experience at The Oval. (Photo courtesy Saint-Gobain)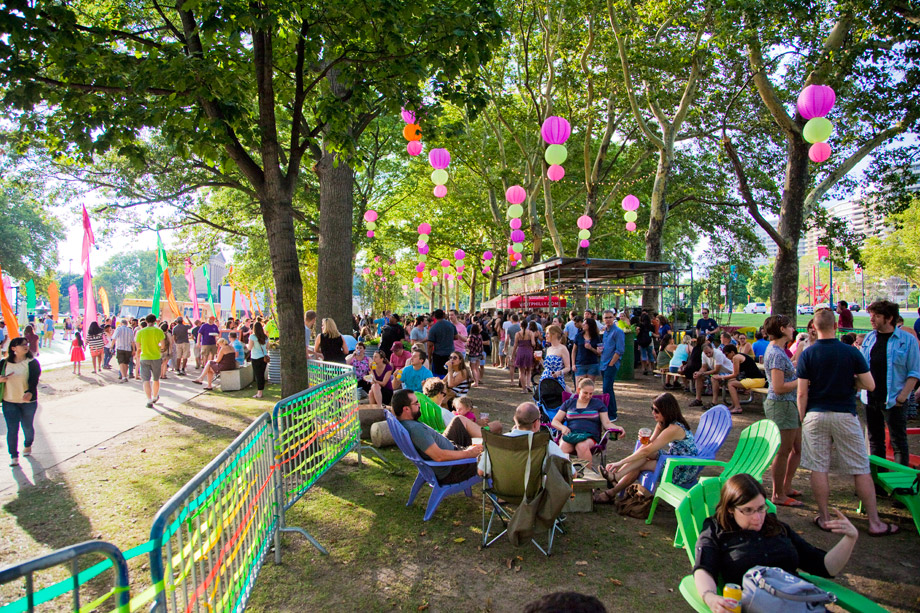 The Oval's beer garden will be open during Future Sensations.
Philly Beer Week Garden at Headhouse Shambles
June 1-5
Head to the historic Shambles at Headhouse Square nightly June 1-5 for the Philly Beer Week Garden to enjoy special one-offs and rare brews alfresco, plus live tunes and food from South Street Headhouse District restaurants. Admission is free, with brews and bites on a pay-as-you-go basis.
The Shambles at Headhouse Square will be transformed into a beer garden nightly for Philly Beer Week.
Fishtown FestivALE
June 6
Johnny Brenda's, Frankford Hall, Fette Sau and more team up to bring beer lovers the fourth annual Fishtown FestivALE, an outdoor daylong beer carnival with cold beer, fine food, live music and more.