The 50 Biggest Festivals & Events Coming to Philadelphia in 2015
A month-by-month guide to the biggest, can't-miss events coming to Philly this year
Festivals, exhibitions, art shows, sporting events, parades and cultural events keep art lovers, garden enthusiasts, film connoisseurs, music aficionados and sports fans keep coming back to Philadelphia year after year.
In addition to popular perennial events like Night Market Philadelphia, July 4th and the Philadelphia Marathon, the city is also preparing for once-in-a-lifetime art exhibitions, blockbuster outdoor attractions and a visit from His Holiness, Pope Francis.
To help you plan your next visit (or three) to Philadelphia, we've collected a few of the most exciting happenings each month in 2015.
The events below are the biggest events coming to the city in 2015 – drawing tens of thousands of people. But it is just a sampling of the hundreds of events that take place in Philadelphia every season. For more comprehensive guides to events and festivals coming to Philly this year, check out our guides Spring, Summer, Fall and Winter Festivals & Events.
March
Macy's Flower Show
March 30-April 4
Say goodbye to winter and hello to spring during the annual Macy's Flower show at Macy's Center City. The annual event transforms the iconic Grand Court into a spectacular floral landscape complete with beautiful blooms, lush greens and blooming trees. Wander through the fragrant displays, do a little shopping and tour the impressive Wanamaker Organ during your visit.
Titanoboa: Monster Snake at the Academy of Natural Sciences of Drexel University
Through April 19
Come face-to-face with the largest snake ever during Titanoboa: Monster Snake at the Academy of Natural Sciences. The fascinating exhibition features a live-size model of the namesake prehistoric reptile that measured 48-feet-long and weighed more than 2,500 pounds.
Art of the Brick at the Franklin Institute
Through October 4
An art exhibition unlike any you've ever seen is coming to Philadelphia. Beginning in February 2015, the Franklin Institute will host the world's largest exhibition of LEGO® art during The Art of the Brick. The limited-time exhibition features works from artist Nathan Sawya, who recreates famous masterpieces and original artworks using only LEGO bricks.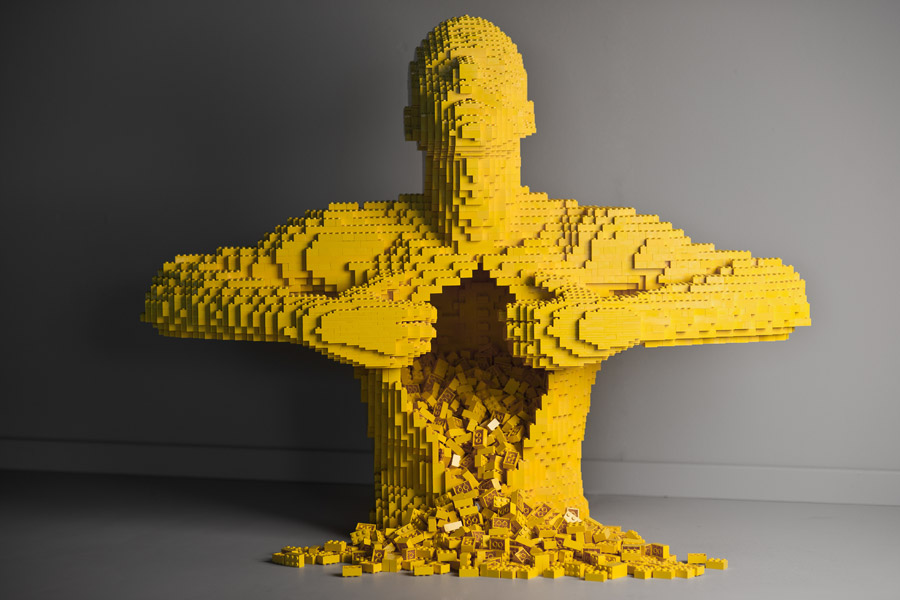 Explore 3D renditions of famous artworks and incredible original pieces made entirely of LEGO during The Art of the Brick at the Franklin Institute (Photo by Erica Ann)
April
Philly Tech Week
April 17-25
Organized by Technically Philly, Philly Tech Week 2015 presented by Comcast celebrates and encourages the technology and innovation thriving in the Philadelphia region. More than 140 citywide events include a women-in-tech summit, a robotics showcase and a cocktail-infused tech expo and demo party held at the Comcast Center.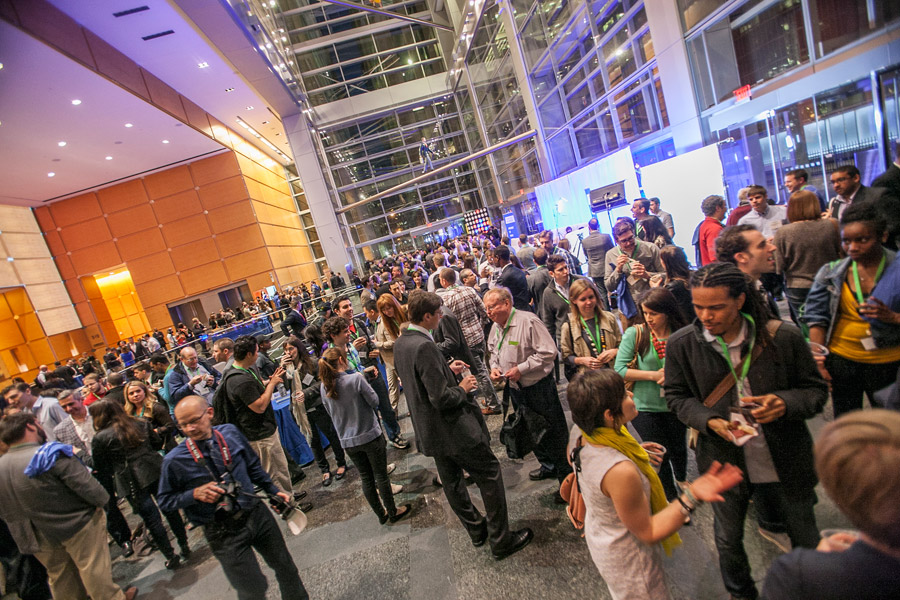 Philly Tech Week hits April 17-25 with an Arcade at Dilworth Park, a Start-up Crawl, a Mayoral Forum and so much more. (Photo courtesy Philly Tech Week)
The Penn Relays
April 23-25
A late April tradition, the annual Penn Relay Carnival is now in its 121st year, making it the world's first and most widely recognized relay meet. Each year, this historic rite of spring draws crowds of up to 100,000 to the University of Pennsylvania's Franklin Field, where spectators know they'll see some of the world's top track athletes compete — and begin Olympic careers.
Philly Bike Share Opens
April 23
The city's long-awaited bike sharing program, dubbed Indego, will launch in the spring bringing easy-to-rent bicycles to 70 locations around the city.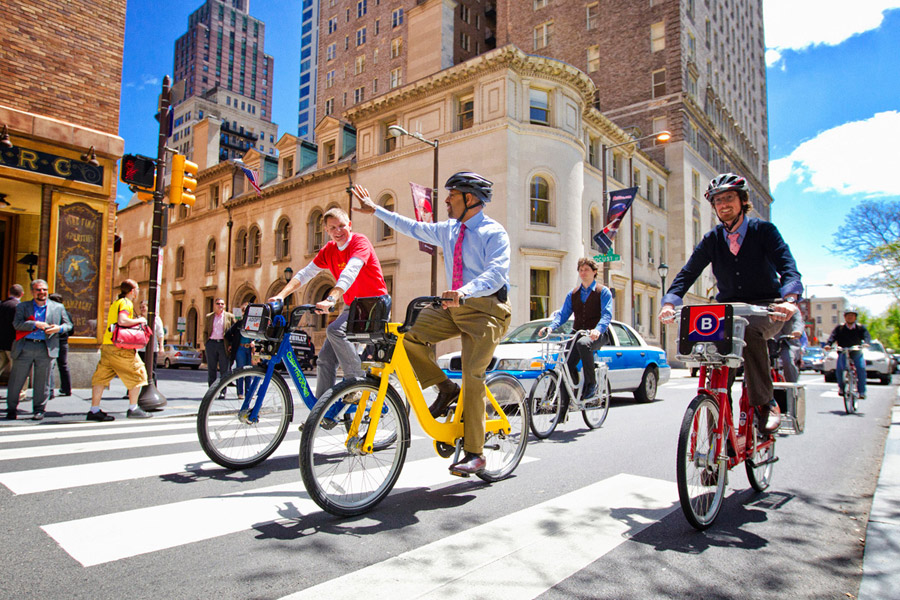 Philadelphia is gaining pedal power with the launch of a city-wide bike sharing program in the spring of 2015. (Photo courtesy Philadelphia Bike Share)
Philadelphia Science Festival
April 24-May 2
Now in its fifth year, the Philadelphia Science Festival aims to inspire the next generation of scientists with more than 100 events over nine days. Highlighting how science and technology impact our daily lives, the festival features a number of hands-on, interactive events and exhibitions for all-ages including the massive street Science Carnival on the Benjamin Franklin Parkway. Best of all, most events are completely FREE.
May
Rittenhouse Row Spring Festival
May 2
One of Philadelphia's most popular spring festivals, the annual Rittenhouse Row Spring Festival attracts more than 50,000 people from across the region to Rittenhouse Square for one awesome Saturday each May. The Rittenhouse Row Spring Festival takes over six blocks of Walnut Street (between Broad and 19th Streets) for the day to showcase the neighborhood's fantastic food, fashion, arts and entertainment.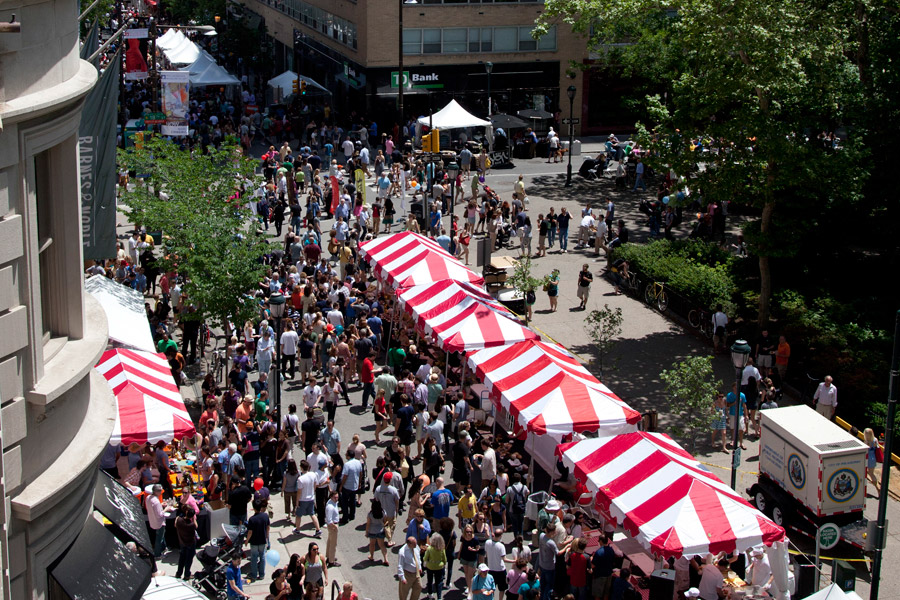 Thousands pack Rittenhouse Square for the Rittenhouse Row Spring Festival highlighting the neighborhood's fantastic food, fashion, arts and more. (Photo by E. Mencher for Visit Philadelphia)
South Street Spring Festival & Maifest
May 2
Another super-popular spring festival is the annual South Street Spring Festival, taking over about eight blocks of South Street. Held on South Street, between Front and 8th streets, the fantastic outdoor celebration is a pedestrian paradise of food, music and fun from 11 a.m. until 8 p.m. And don't miss the third annual Maifest celebration, where 15,000 revelers try German beers and shop from street vendors while watching German dancers perform the traditional Maypole dance in front of Brauhaus Schmitz.
Broad Street Run
May 3
The annual Blue Cross Broad Street Run is a 10-mile, point-to-point course running from the northern edge of the city to the Philadelphia Navy Yard on the Delaware Waterfront. Thousands of runners participate in the annual run that passes many of the city's most important landmarks including Temple University, City Hall, Pennsylvania Academy of the Fine Arts, The Avenue of the Arts and the Philadelphia stadium complex.
Aberdeen Dad Vail Regatta
May 8-9
Thousands of athletes from more than 125 colleges and universities in the United States and Canada compete on the scenic Schuylkill River during the annual Aberdeen Dad Vail Regatta, the largest collegiate regatta in the nation and a Philadelphia tradition. The two-day race is held in beautiful Fairmount Park, one of the most famous and scenic rowing routes in the world. The event has attracted competitors and their families for generations, so expect crowds of more than 10,000 spectators.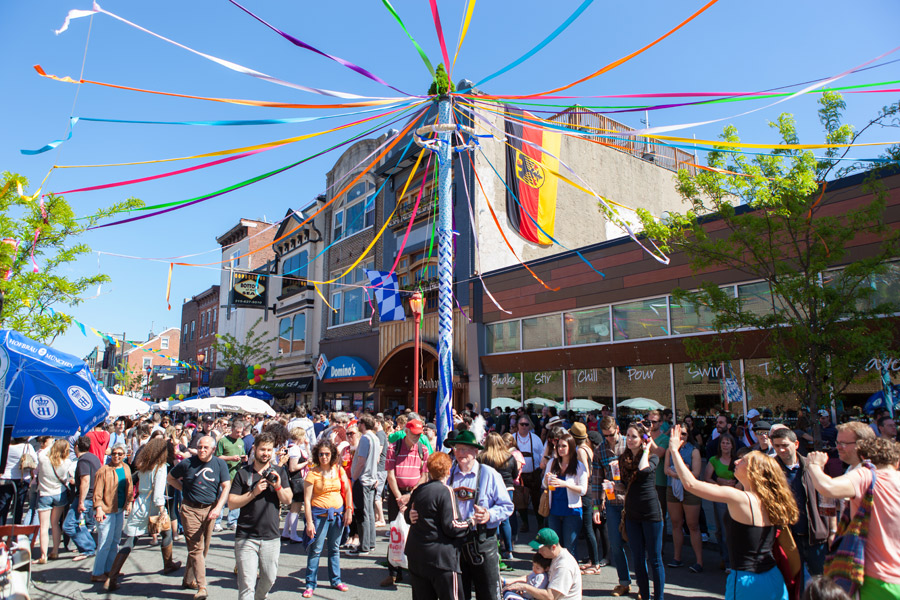 The South Street Spring Festival is a fantastic outdoor celebration of food, music and fun from 11 a.m. until 8 p.m.. (Photo by M. Edlow for Visit Philadelphia)
Sesame Place's 35th Birthday Celebration
Starts May 2
Sesame Place is turning 35! Starting May 2, enjoy festive birthday décor, birthday promotions and social media contests. In addition, the popular Neighborhood Street Party Parade will be transformed into the new Neighborhood Birthday Party Parade featuring a brand-new birthday float, fun birthday decorations and an exciting original birthday song.
Genghis Khan at the Franklin Institute
May 9, 2015-January 3, 2016
Explore the greatest empire the world has ever known with the opening of an exhibition devoted to Genghis Khan at the Franklin Institute. Discover the treasures and stories of the 13th-century Mongol Empire and learn about the amazing genius of the Mongolian conqueror, an unsophisticated warrior nomad who had profound impact on world politics and led the world into the modern age.
Kensington Kinetic Sculpture Derby & Festival
May 16
The Kensington Kinetic Sculpture Derby & Festival is the new name for one of the city's quirkiest spring events. Formerly two events, the Trenton Avenue Arts Festival and Kensington Kinetic Derby, is a day-long celebration of the creative spirit and community pride.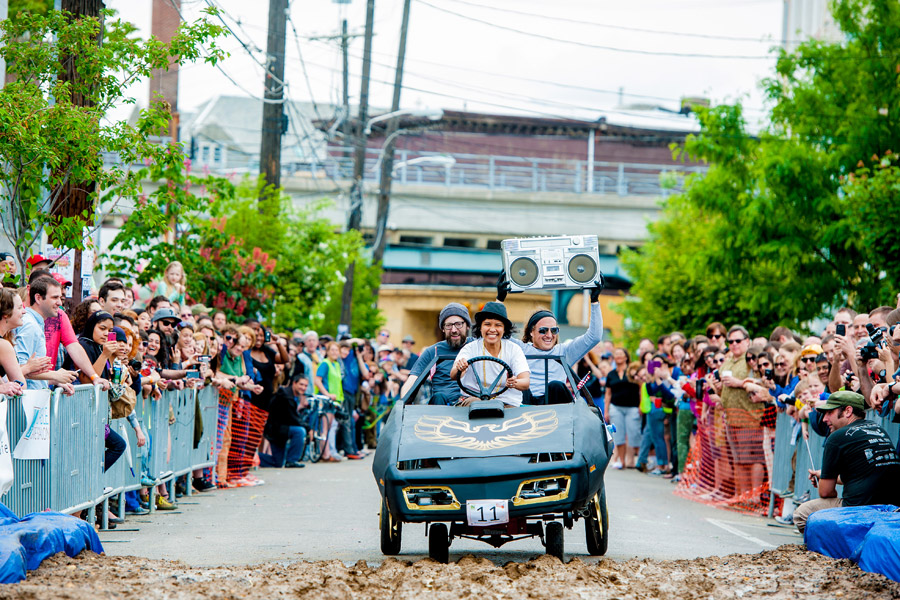 Watch wild creations take to the streets during the Kensington Kinetic Sculpture Derby which takes place alongside the annual Kensington Kinetic Sculpture Derby & Festival.
9th Street Italian Market Festival
May 16-17
For one weekend each May, 9th Street — in the heart of South Philadelphia — closes down traffic and a huge, multi-block festival takes over the neighborhood. It all starts with the great sights, sounds and aromas of America's oldest continuously operating open-air market: South Philadelphia's famous Italian Market. And the most important thing for you to bring with you is your appetite.
Spruce Street Harbor Park Reopens
May 22
Last summer visitors were blown away by the debut of Spruce Street Harbor Park, a pop-up park on the Delaware River Waterfront. By popular demand, the riverside oasis will return in 2015 with beer gardens, pop-up restaurants and, of course, hammocks.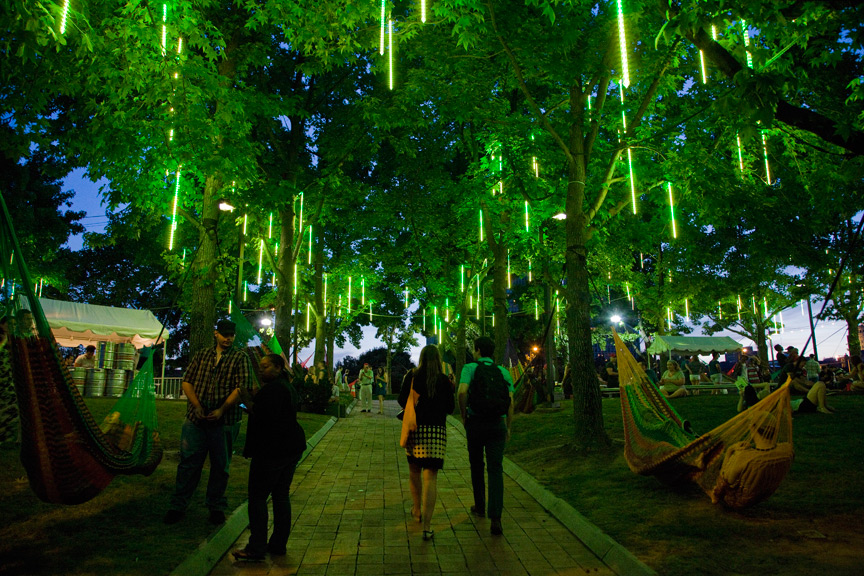 Spruce Street Harbor Park returns to the Delaware River Waterfront in 2015, bringing back its super-popular beer gardens, a floating eatery, colorful lights and prized hammocks.
Philly Beer Week
May 29-June 7
The city of Philadelphia has been brewing beer for more than 300 years. So deep are its sudsy roots, Philadelphia has even been called "the best beer-drinking city in America." Lasting 10 days and nights, Philly Beer Week is the largest beer celebration with hundreds of festivals, beer-pairing dinners, spirited homebrew competitions, citywide pub crawls and meet-and-greets.
Future Sensations at The Oval
May 30-June 6
Philadelphia is the only U.S. city to host Saint-Gobain's never-before-seen traveling exhibit Future Sensations, a high-concept, immersive experience featuring five distinct "ephemeral pavilions." Through science, storytelling and art, each pavilion will offer a 3-D walk-through encounter that will be completely free and open to the public. From May 30 to June 6, Future Sensations will take over The Oval, the park on the Benjamin Franklin Parkway, with five 20- to 30-ton pavilions that offer visitors a live digital experience merging 21st-century technology with imaginative arts.
Philadelphia joins Shanghai, Sao Paulo and Paris as one of only four cities to host Future Sensations, a futuristic exhibition commemorating the 350th anniversary of Saint-Gobain, which launched in Shanghai (shown here) in January. (Photo courtesy of Saint-Gobain).
Roots Picnic
May 30
The hardest working band in the business, Philadelphia-natives The Roots typically kick-off the summer music season at the Festival Pier on the Delaware River Waterfront. Now in its eighth year, The Roots Picnic features acts spanning multiple musical genres and is one of the city's can't-miss live music events.
PECO Multicultural Series at Penn's Landing
June-September
The PECO Multicultural Series on the Great Plaza at Penn's Landing celebrates the diverse cultures that make Philadelphia a distinct city. The free Sunday events include the Hispanic Fiesta, Carribbean Festival, Islamic Heritage Festival, Irish Festival, Southeast Asian Dragon Boat Festival and more.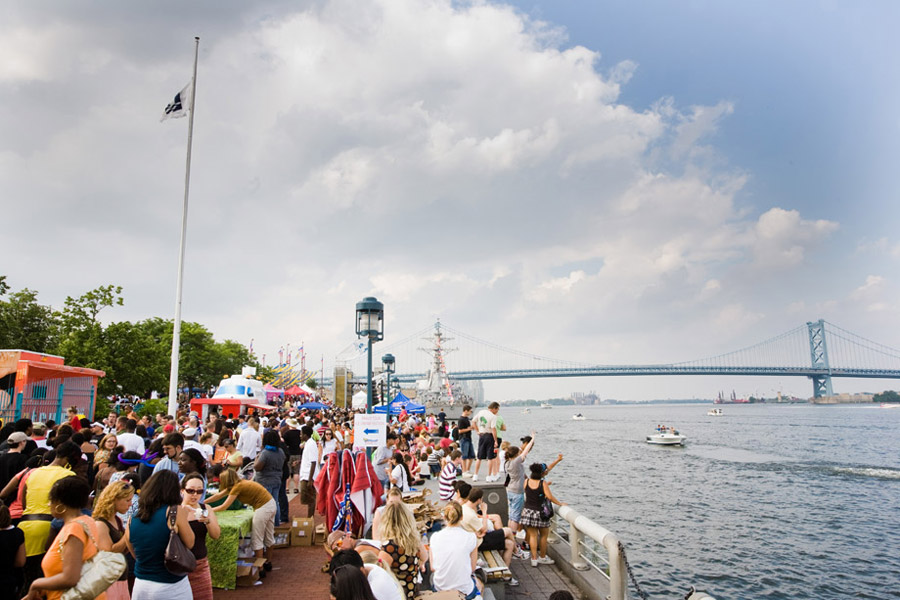 Penn's Landing is a hub of activity all summer long with festivals, events, concerts, fireworks and a lot more. (Photo by J. Smith for Visit Philadelphia)
Night Market Philadelphia
May 14; June 18; August 6; October 1
Food trucks and Philadelphia neighborhoods are the key ingredients for the uber-popular Night Market Philadelphia hosted by The Food Trust. The roving festival of street eats, live music and neighborhood pride typically kicks-off in the spring and is held multiple times throughout the year.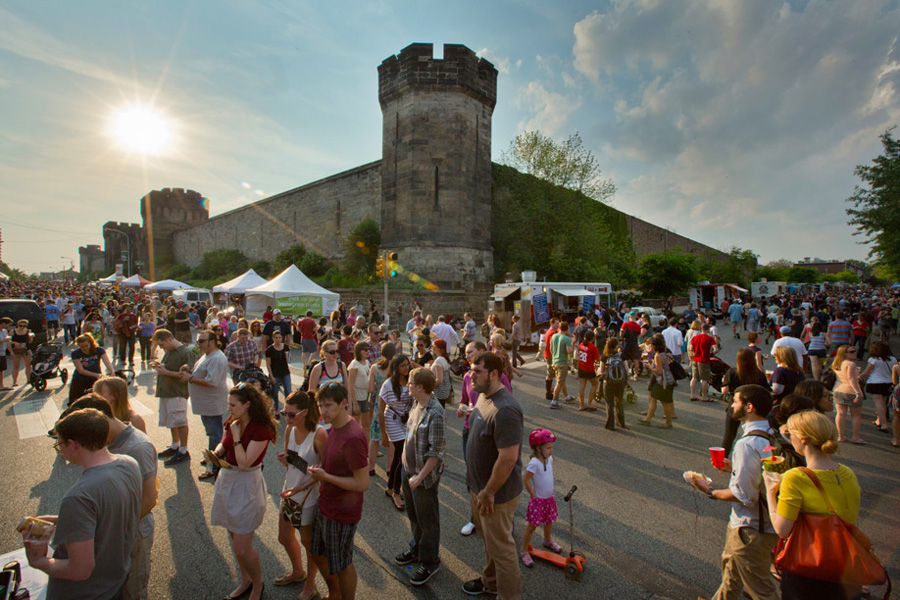 Night Market Philadelphia brings the city's top food trucks to various neighborhoods during the warm weather months for an evening of food, music and fun. (Photo by D. Tavani for Visit Philadelphia)
June
50th anniversary of Gay Rights Demonstrations
June 1-October 2015
Throughout the summer, Philadelphia will honor the 50th anniversary of one of the nation's first gay rights demonstrations with a series of special events and activities. The National Constitution Center will take look at the gay rights movement with the exhibition Seeking Justice, Seeking Equality: The Constitution, the Supreme Court, and the Evolution of Gay Rights while a reenactment of the original July 4th demonstrations will take place on Independence Mall.
40th Annual Odunde Festival
June 14
The annual Odunde Street Festival is celebrating four decades of bringing a genuine taste of Africa to South Street with a cultural, family-friendly celebration that attracts more than expected to draw nearly 500,000 people each year and covers 12 city blocks.
Manayunk Arts Festival
June 20-21
The largest outdoor juried arts festival in the region, the 26th annual Manayunk Arts Festival attracts thousands of visitors for a weekend of arts, crafts and entertainment. Hundreds of artists from around the country will showcase their works along Main Street in Manayunk during the two-day celebration.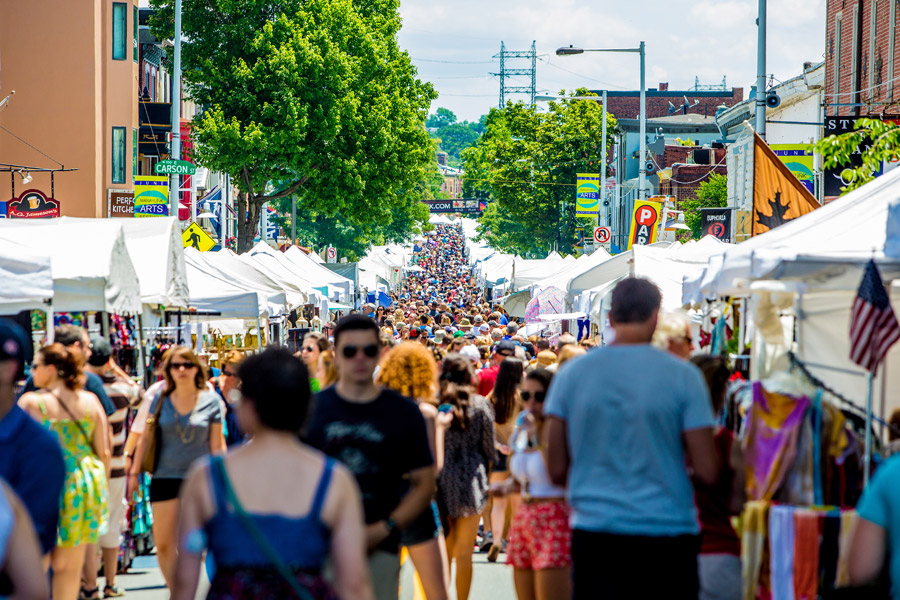 Thousands pack Main Street in Manayunk for a weekend of arts, crafts, food and fun during the annual Manayunk Arts Festival. (Photo courtesy J. Fusco for Visit Philadelphia)
Discovering the Impressionists: Paul Durand-Ruel and the New Painting at the PMA
June 24-September 13
Philadelphia's impressive collection of Impressionist artworks will grow exponentially with the Philadelphia Museum of Art's blockbuster summer exhibition. Discovering the Impressionists is being hailed as a once-in-a-lifetime event showcasing more than 80 works by Monet, Pissarro, Renoir, Sisley, Degas and Manet.
Tall Ships Philadelphia-Camden
June 24-28
Billowing sails will waft in the breeze when the Tall Ships Challenge Philadelphia Camden 2015 pulls into port. Visitors can catch a glimpse, step aboard and even set sail on the ships, which will dock at Penn's Landing and the Camden Waterfront.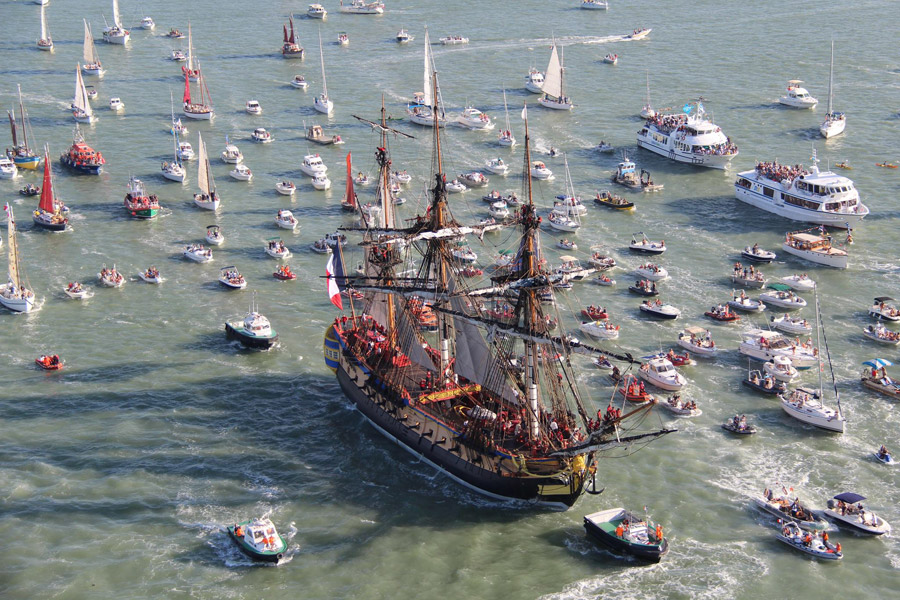 The Delaware River will teem with tall ships this summer. (Courtesy of Draw Events.)
July
Wawa Welcome America
Week of July 4
There's no better place to celebrate America's Birthday than in America's Birthplace. Philadelphia extends the July 4th celebration with a week of family-friendly events and activities leading up to the free Party on the Parkway featuring performances from internationally recognized artists and the spectacular July 4th Fireworks celebration.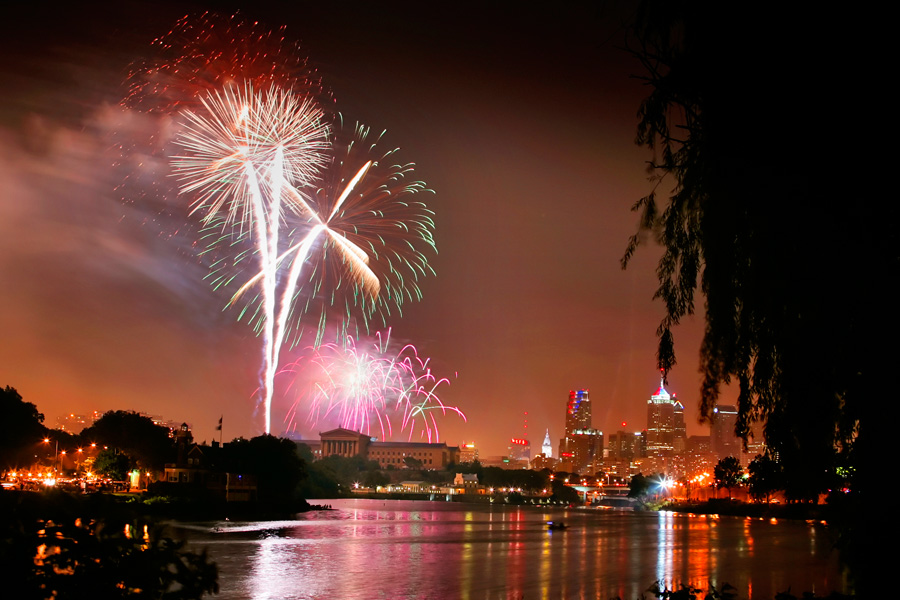 Philadelphia goes all out for Independence Day with fireworks, concerts, special events and much more. (Photo by R. Kennedy for Visit Philadelphia)
Bastille Day at Eastern State Penitentiary
TBD
Cries of "Let them eat Tastykake" will ring out as thousands of the local confections are showered upon the crowd during the annual Bastille Day Festival in Philadelphia's Fairmount neighborhood. Held annually in front of Eastern State Penitentiary, the celebration commemorates the storming of the Bastille with a day-long block party packed with music, food, reenactments and more.
The Oval Pop-Up Park Returns To The Benjamin Franklin Parkway
TBD
From concerts and outdoor movies to beer gardens and food trucks, The Oval pop-up park brings outdoor awesomeness to Eakins Oval every summer at the northwest end of the parkway across from the Philadelphia Museum of Art. Details and dates for the 2015 season have not been released yet, but you can expect an epic good time.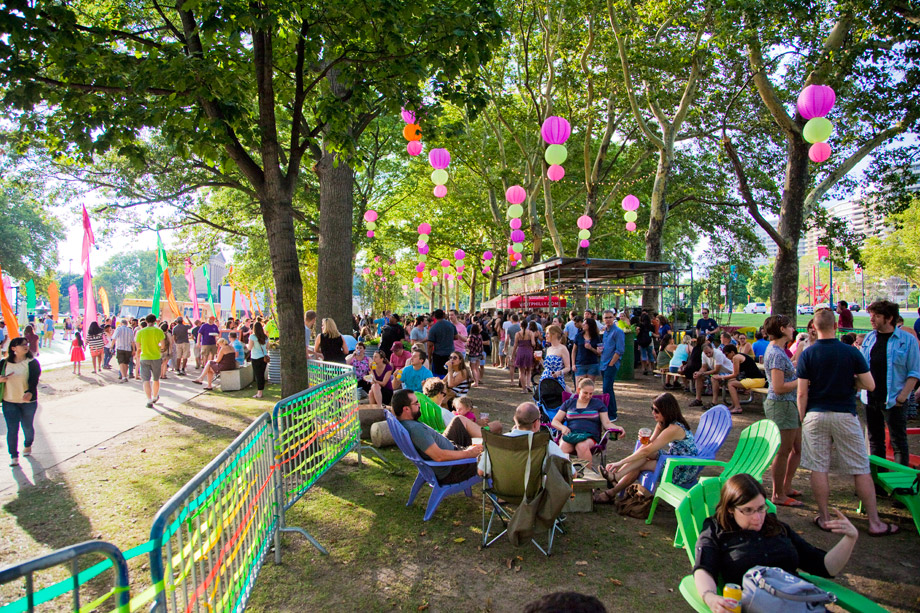 The Oval pop-up park has become a must-visit summer destination in Philly. (Photo by M. Fischetti for Visit Philadelphia)
XPoNential Music Festival
July 24-26
Produced by WXPN, the XPoNential Music Festival on the Camden Waterfront offers three amazing days of great music from both local and national artists.
CONCACAF Gold Cup Finals
July 25-26, 2015
Big news for soccer fans: This summer, Philadelphia will host the CONCACAF Gold Cup finals – the signature tournament for North and Central American national soccer teams – including the third place game at PPL Park on July 25 and the Final itself at Lincoln Financial Field on Sunday, July 26. This is the first time the Gold Cup final will be held in a U.S. market that isn't New York, Chicago or Los Angeles, further solidifying, along with the popularity of the Philadelphia Union soccer team, Philadelphia's growing reputation as a bastion of soccer fandom.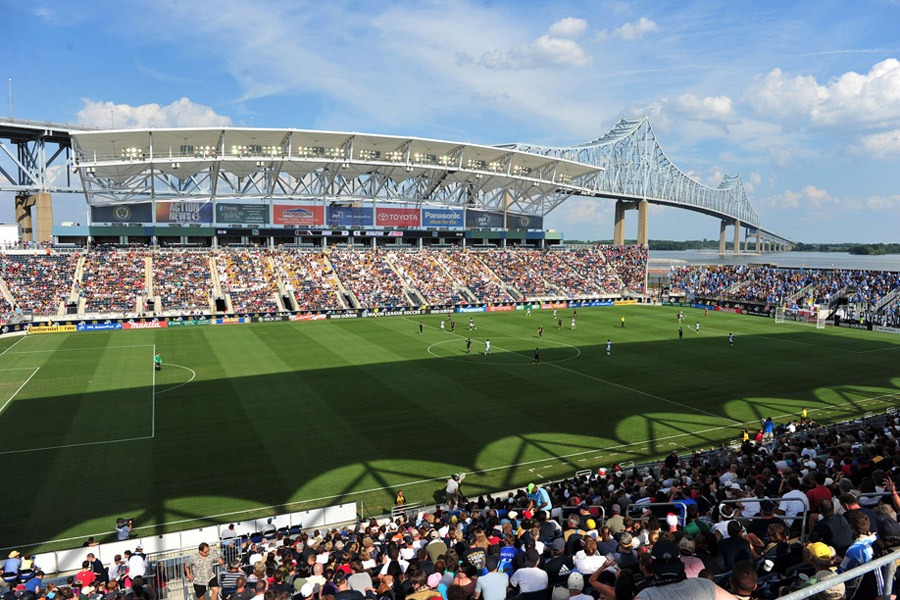 PPL Park, the Philadelphia Union's home, provides over half of the spectators with views of the Delaware River and the Commodore Barry Bridge. (Photo courtesy of the Philadelphia Union.)
BlackStar Film Festival
July 30-August 2
Hailed by Ebony magazine as "the black Sundance," the Black Star Film Festival screens dozens of films about the global black experience and films by people of African descent.
August
Center City District Restaurant Week
August 2-7 & 9-14
One of the most popular dining events of the year, Center City District Restaurant Week features affordable, multi-course, prix fixe meals at more than 120 restaurants. This year's Restaurant Week moves to August, bringing three-course dinners (and lunch at select restaurants) from $20-35 per person. The biannual event is a celebration of amazing meals at revered restaurants, dining hotspots and praiseworthy newcomers.
2nd Street Festival
August 2
Every August, thousands pack a seven-block stretch of North 2nd Street between Germantown Avenue and Spring Garden for a Philly-centric lineup of live bands, food trucks, beer gardens and shopping during the 2nd Street Festival in Northern Liberties.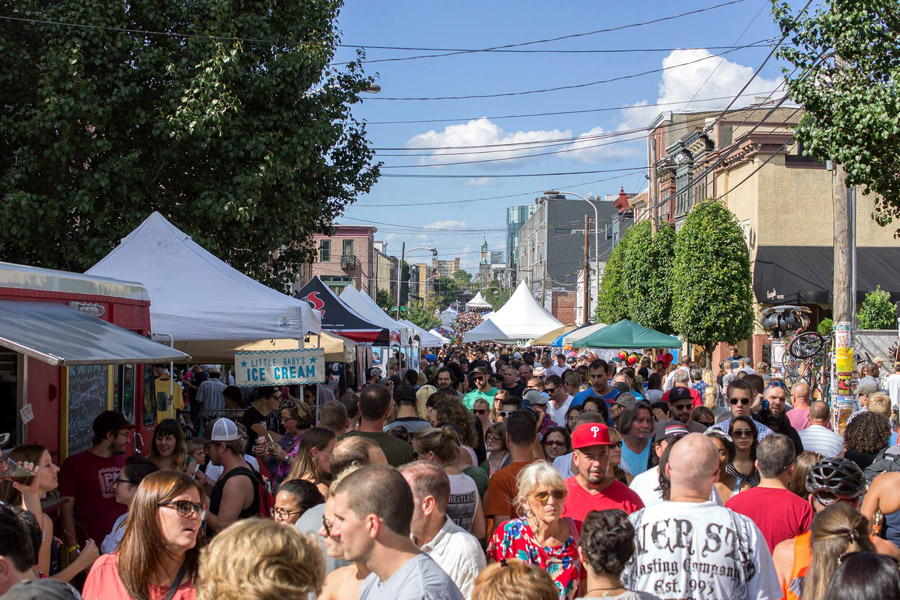 A massive block party in Northern Liberties, the 2nd Street Festival is a fun-filled day of live music, food trucks and shopping. (Photo courtesy 2nd Street Festival)
Philadelphia Folk Festival
August 14-16
The hills of Schwenksville, Pennsylvania come alive every summer with the sound of folk music during the long-running Philadelphia Folk Festival at Old Poole Farm. Sing along, clap or just enjoy the music that fills the pastoral landscape as five stages showcase an array of exciting performers from the world of folk music.
September
Fringe Festival
September 3-19
Presented by FringeArts, the month-long Fringe Festival features hundreds of dance, theater, visual arts, music and spoken-word performances in traditional venues, but also on street corners, cars, galleries, cabarets and restaurants. It's offbeat, daring and avant-garde with lots of artistic cross-pollination.
Made In America Music Festival
Labor Day Weekend
Returning for a third year, the Budweiser Made In America Festival is a massive musical celebration that takes on the Benjamin Franklin Parkway over Labor Day weekend. Though no details or specific dates are available yet, the festival, complete with dozens of top performers and multiple stages, is one of the year's can't-miss events.
made in america music festival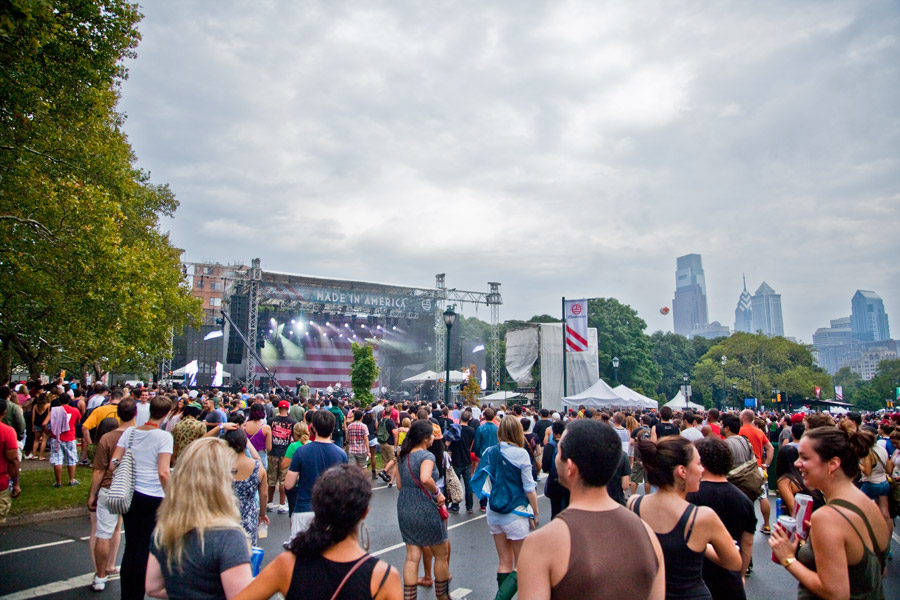 The Made in America Music Festival draws thousands to downtown Philadelphia for an epic music fest. (Photo by M. Edlow for Visit Philadelphia)
Kennett Square Mushroom Festival
September 12-13
Thousands of mushroom lovers across the nation converge in historic Kennett Square each year on the weekend after Labor Day to celebrate the humble fungi. The blockbuster Kennett Square Mushroom Festival is a two-day festival featuring mushroom-centric events, food and family fun.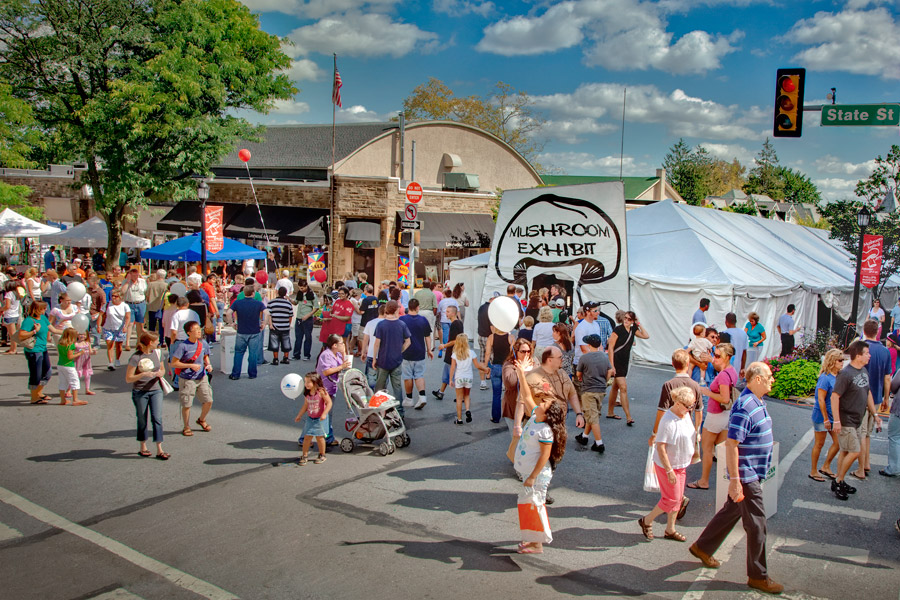 Celebrate all-things mushroom in Kennett Square, The Mushroom Capital of the World, during the annual Mushroom Festival. (Photo by G. Widman for Visit Philadelphia)
Terror Behind the Walls
September 18-November 7
Eastern State Penitentiary — a gothic, castle-like structure in Philadelphia's Fairmount neighborhood — is home to one of the nation's largest and most ambitious and top-rated haunted attractions, Terror Behind the Walls. The Halloween favorite includes Hollywood-quality special effects and lighting, digital sound, animatronic creatures and custom props all design to scare all those who dare to enter.
World Meeting of Families & The Pope's Visit
September 22-27
This is the big one. Visitors from around globe will converge on Philadelphia as Pope Francis makes his first visit to the United States during the eighth annual World Meeting of Families. Throughout the week, 100 speakers will lead panel discussions and workshops at the Pennsylvania Convention Center focused on the theme "Love is our Mission: The Family Fully Alive" leading up to a massive public mass led by His Holiness.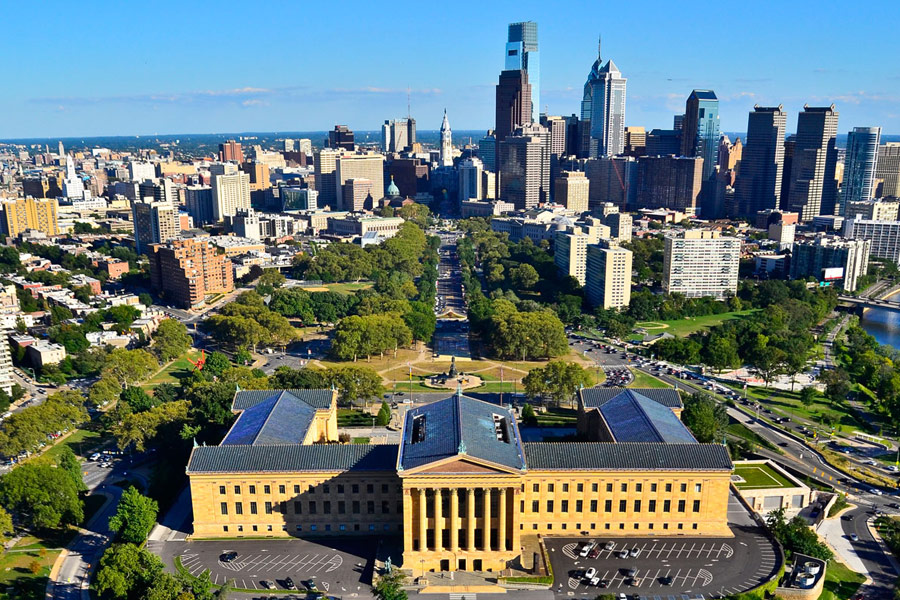 The World Meeting of Families is coming to Philadelphia in 2015 complete with a special appearance from Pope Francis, who will lead a special public mass during his visit. (Photo by B. Krist for Visit Philadelphia)
Liberty One Observation Deck Grand Opening
Fall 2015
Expect a flood of images on your Instagram feed with the grand opening of the Liberty One Observation Deck, a sky-high new attraction 57-stories above ground. The stunning new destination on the 57th floor of One Liberty Place will be a must-visit location for those looking to get perfect skyline pictures.
October
Midtown Village Fall Festival
October 3
Every autumn, several blocks of 13th Street shut down for the day in celebration of the Midtown Village Fall Festival. Thousands pack the streets of Midtown Village for the annual block party featuring live music, beer gardens and delicacies from popular restaurants including Barbuzzo, Zavino, Sampan and many more.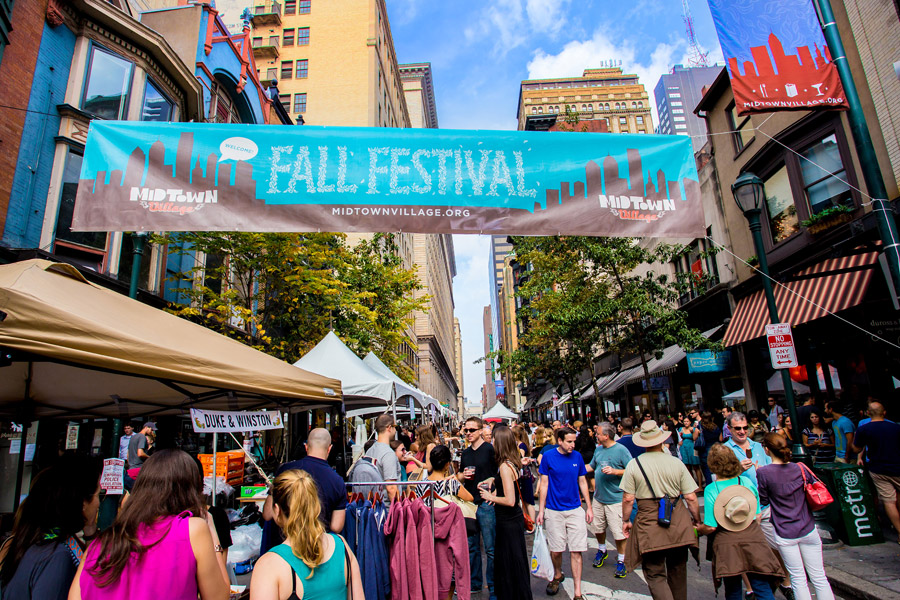 One of the most popular events of the season, the Midtown Village Fall Festival shuts down several blocks of 13th Street for a day-long block party. (Photo by J. Fusco for Visit Philadelphia)
DesignPhiladelphia
October 7-16
More than 200,000 people attend hundreds of events during DesignPhiladelphia, a city-wide celebration of design and innovation. Attracting more than 400 artists and professionals from around the globe, the annual festival features a variety of special events, walking tours, lectures, workshops and more.
Bloktoberfest
Beer takes center stage during Bloktoberfest, a sudsy spectacular in Philadelphia's Graduate Hospital neighborhood. Held on South Street, the day-long party features live music, popular food trucks, family-friendly fun and plenty of craft beer.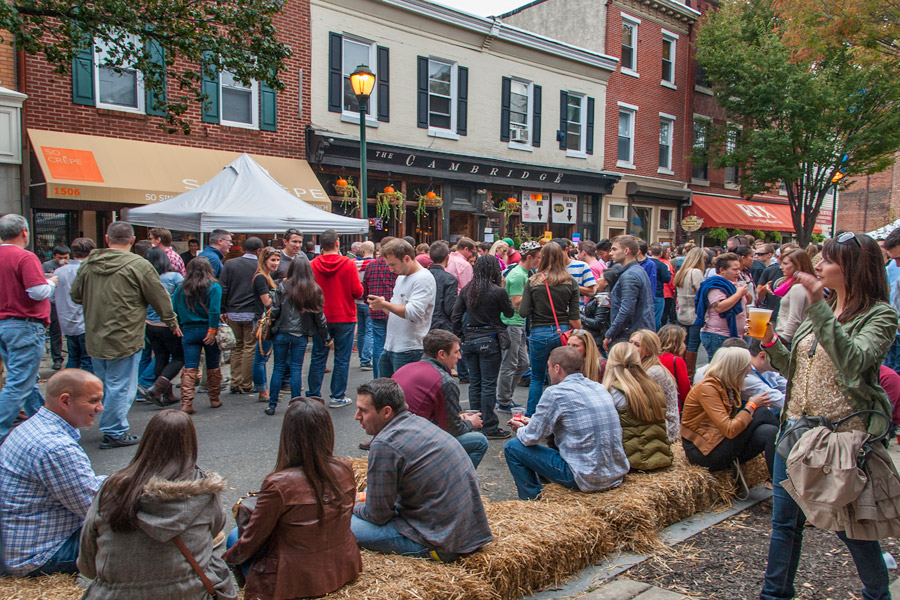 Taking over a stretch of western South Street every autumn, Bloktoberfest brings in big bands and a bevy of craft beer providers to make for a true neighborhood festival that's free to attend. (Photo by R. Kennedy for Visit Philadelphia)
Outfest
October 11
Philadelphia celebrates National Coming Out Day during OutFest, the largest event of its kind in the world. Join more than 100 organizations, community groups and vendors for a celebration including live music, dancing, food and much more.
150th Anniversary of Alice in Wonderland at the Rosenbach
October 14-March 27, 2016
When Alice fell down the rabbit hole 150 years ago, the world rushed to follow her adventures in wonderland. The Rosenbach of the Free Library of Philadelphia celebrates the sesquicentennial of Alice's Adventures in Wonderland with a host of exhibitions and programs that explore the literary classic.
Philadelphia Film Festival
October 15-25
Now in its 24th year, the Philadelphia Film Festival presented by the Philadelphia Film Society (PFS) showcases cinematic wonders from around the world. The 10-day festival features works from notable filmmakers and rising stars, offering a chance to catch the latest and greatest works from the world of film. Last year, the festival opened with a screening of Birdman, which went on to win multiple Academy Awards including Best Picture and Best Director.
Hosted by the Philadelphia Film Society (PFS), the 23rd annual Philadelphia Film Festival features more than
read more
Harry Potter Festival
October 16-17
Families and would-be wizards flock to Chestnut Hill for the annual Harry Potter Festival. Inspired by the magical world created by author J.K. Rowling, the all-ages weekend festival features a variety of events and activities inspired by the beloved, best-selling series.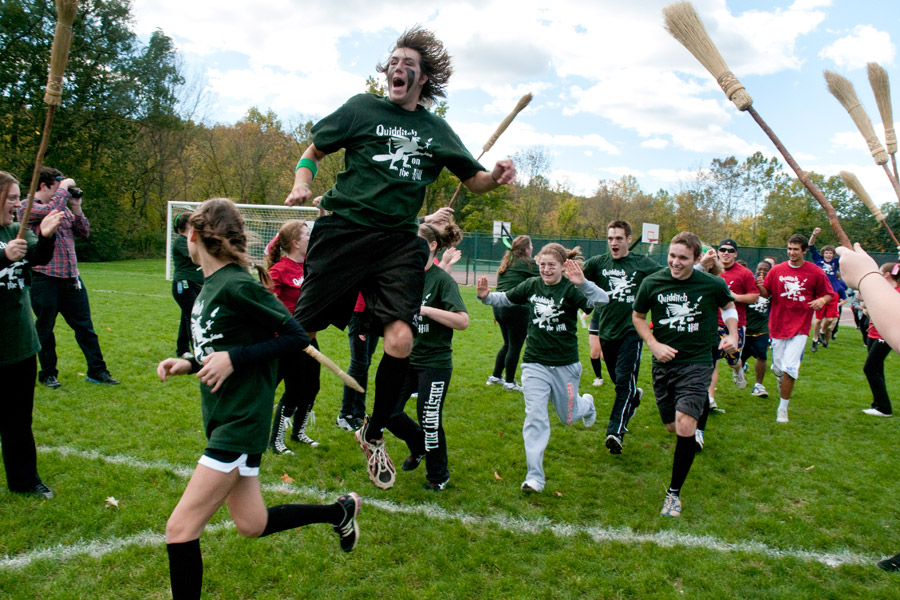 Spend a magical weekend in Chestnut Hill during the Harry Potter Festival, inspired by the popular series by author J.K. Rowling. (Photo courtesy Chestnut Hill Business Association)
November
Peddler's Village Apple Festival
November 7-8
Peddler's Village highlights all-things apple during their incredibly popular Apple Festival. Sample apple treats, enjoy a pie-eating contest, listen to live music and bring a bushel of apples home during the autumn harvest celebration.
Philadelphia Marathon
November 20-22
With a fast course that winds through the city's historic downtown, past the stunning Philadelphia Museum of Art and along scenic Boathouse Row, this marathon has been one of the country's premier running events since 1994. The weekend also includes an 8K race, half-marathon, a Kids Fun Run and the Health & Fitness Expo.
Thanksgiving Day Parade
November 26
The 1.4-mile 6ABC Dunkin' Donuts Thanksgiving Day Parade is the oldest Thanksgiving parade in the country and a true Philadelphia tradition. The city streets make way for massive floats and giant balloons, plus local performers from choirs, dance groups, marching bands and a special visit from Santa.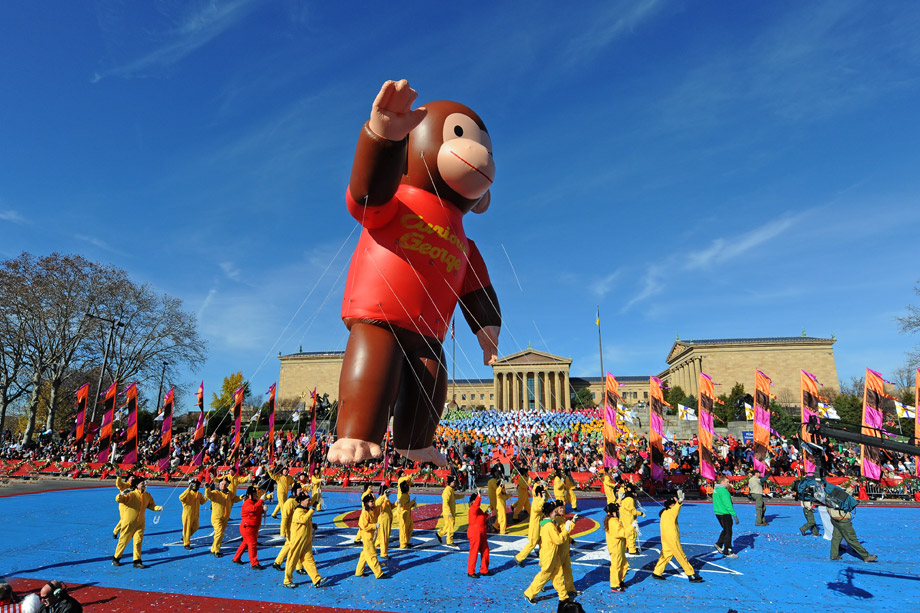 Kick-off the holiday season during Philadelphia's Thanksgiving Day Parade on the Benjamin Franklin Parkway, the oldest Thanksgiving parade in the nation. (Photo by M. Kennedy for Visit Philadelphia)
Christmas Village in LOVE Park
Philadelphia's LOVE Park transforms into a European winter wonderland during annual Christmas Village. The traditional outdoor market is packed with the sights, sounds, smells and flavors of the Christmas season with more 60 vendors from around the globe selling food and gifts in quaint, wooden booths spread across the park.
December
Army-Navy Game
December 12
America's favorite college football rivalry returns to Philadelphia, marking the city's 86th year as host. The Army-Navy Game goes down at Lincoln Financial Field. Will the Navy Midshipmen continue their 13-year winning streak, or will the Black Knights emerge victorious?
Macy's Christmas Light Show
TBD
Held in the Grand Court of the historic Wanamaker Building, the Christmas Light Show and Wanamaker Organ Concert at Macy's Center City is a Philadelphia holiday tradition that dates back more than half a century. Families pack the popular shopping destination to watch more than 100,000 LED lights transform into colorful snowflakes, ballerinas and reindeer and listen to holiday favorites.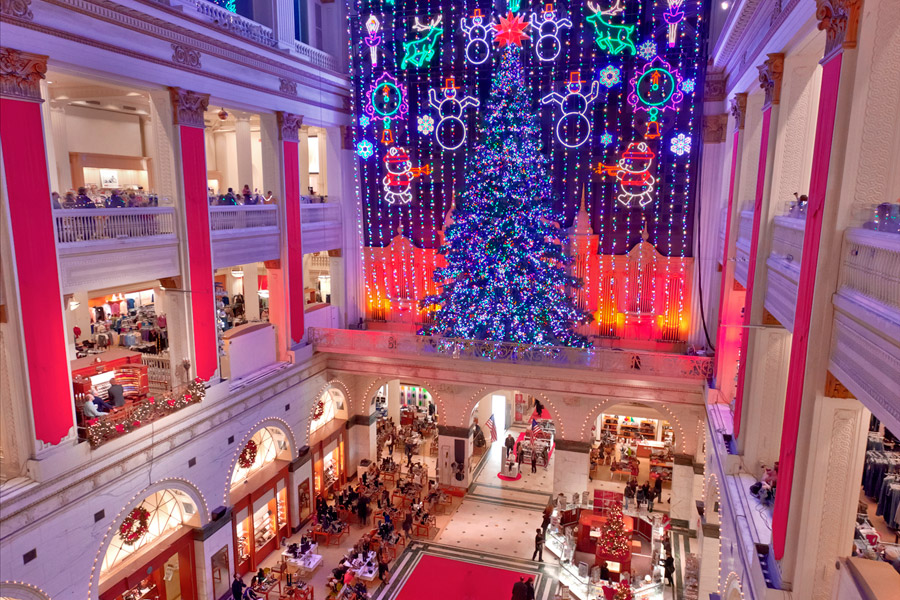 A family-friendly holiday tradition, the Macy's Christmas Light Show is a delightful (and free) way to celebrate the holiday season in Philadelphia.
Comcast Holiday Spectacular
TBD
Shown on the state-of-the-art Comcast Experience video wall at The Comcast Center, The Comcast Holiday Spectacular is filled with sights and sounds of the season. Since its debut in 2008, more than one million people have experienced the wonderful holiday show in the Comcast Center lobby.
New Year's Eve in Philadelphia
December 31-January 1
Philadelphia counts down to the New Year in spectacular fashion with a massive celebration on the Delaware River Waterfront. Say goodbye to 2015 with special dinners, events and activities across the city before the SugarHouse Casino's New Year's Eve Fireworks on the Waterfront at 6 p.m. and midnight. On New Year's Day, join thousands on the streets of Philadelphia for the annual Mummers Parade, a 115-year-old tradition and unforgettable experience.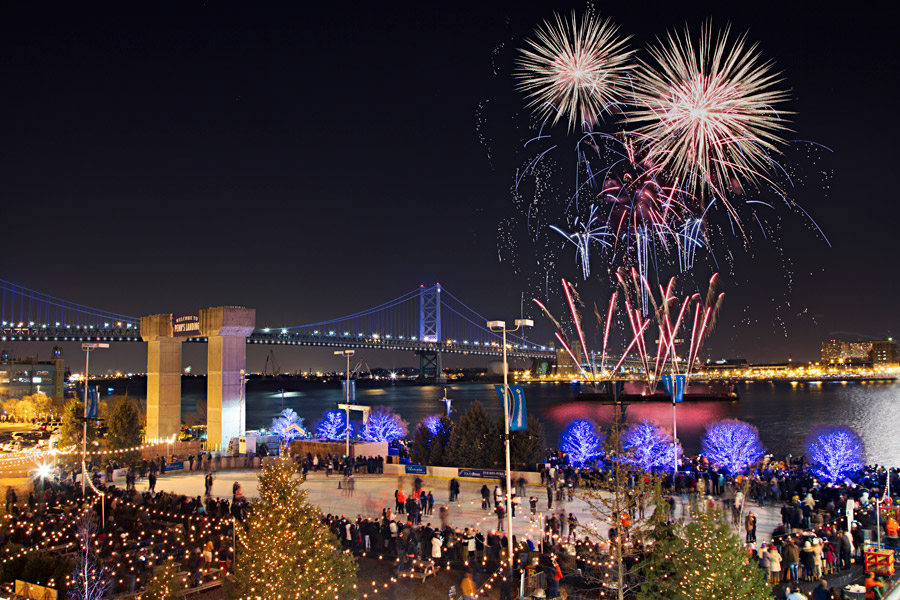 Ring in 2016 with an incredible celebration and fireworks show on the Delaware River Waterfront. (Photo courtesy M. Stanley for DRWC)