Valley Forge /
Montgomery County
Don't miss these hotspots
Spotlight

UWISHUNU Blog

What's New
Life, Liberty and the Pursuit of Fun
Historic attractions, world-class shopping and outdoor adventures await in Valley Forge and Montgomery County
Explore the historic beauty of the sprawling 3,500-acre Valley Forge National Historical Park and remember those who fought for our nation at the many monuments dedicated to the soldiers of the American Revolution.
Love to shop? Stop at King of Prussia Mall, the East Coast's largest shopping mall featuring upscale items and trendsetting fashion at Bloomingdale's, Nordstrom's, Neiman-Marcus and more. Plus, there's no sales tax on clothing!
Head into the open spaces of Valley Forge and Montgomery County for fantastic golf, hiking, biking, fishing, horseback riding and boating. Best of all, you can find it just 30 minutes outside of Philadelphia, with free parking at more than 85 lodging facilities.
Valley Forge Visitors Guide
Discover more fun activities in the region with the official Valley Forge Visitors Guide. Click the button below to request a copy.
Valley Forge Tourism & Convention Board
Visit valleyforge.org to discover special offers, getaway packages and to plan your trip to Montgomery County and Valley Forge.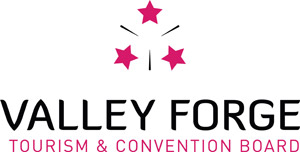 ---
Towns of Montgomery County
From public gardens, arboreta and miles of open space to acres of grape vines and specialty shops, explore 15 Towns of the Philadelphia Countryside in our new interactive guide. Discover a selection of charming towns in Montgomery County, below.
Click here to explore more Towns of the Countryside.