Philly Beer Week
Philadelphia celebrates its beer-drinking roots with a week-long festival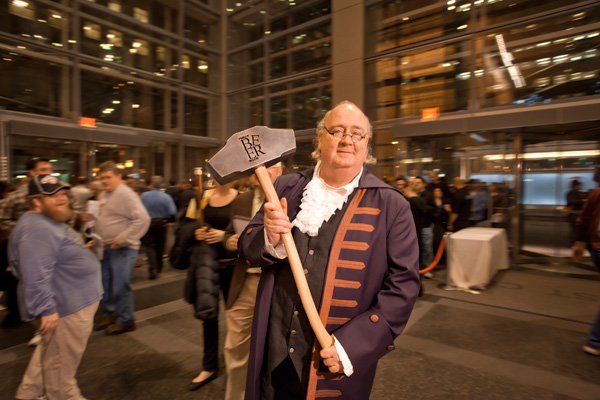 Description
Dates:
May 31 – June 9, 2013
Overview
The city of Philadelphia has been brewing beer for more than 300 years. So deep are its sudsy roots, Philadelphia has even been called "the best beer-drinking city in America."
We're proving it with Philly Beer Week, a week-long suds fest taking place May 31 – June 9.
10-Day Celebration of Beer
Philly Beer Week invites beer lovers to try special dinners and tastings, go on tours of Philadelphia's best pubs and breweries, watch home-brewing technique demos, catch a cask ale festival and more. This year, the week includes five major festivals and more than 600 events.
The events provide great opportunities to sample local brews like Yards, Victory, Triumph and Sly Fox while experiencing Philly's great neighborhoods.
Beer Week 2013 Highlights
Friday, May 31
The iron-clad symbol of Beer Week — the Hammer of Glory — makes its way around the city, from bar to bar, transported by everything from dog-pulled carts to a parade of pin-up girls. Trail the hammer around town to such bars as Kite & Key, Brauhaus, Grey Lodge Pub, Johnny Brenda's, Institute Bar and Standard Tap, or hop on the free double-decker (party) bus as a day-long spectator.
Opening Tap
Friday, May 31, 6:30-10 p.m.
Tickets: $45; VIP, $90
A huge tasting celebration at the Independence Visitor Center, the annual Beer Week commencement ceremonies get started outdoors with a free celebration headlined by Mayor Nutter, as he taps a keg with the Hammer of Glory. At 7:30 p.m., the doors open on the tasting celebration inside the Independence Visitor Center. More than 35 area brewers will be on hand to pour for a crowd of thousands. Look out for limited edition brews, including the Philly Beer Week collaboration beer brewed this year by Weyerbacher's Chris Wilson and Brussels' De La Senne brewery. Tickets are available online.
Brewed in Philly
May 31-June 9
A History of Brewing from the Collections of the Free Library of Philadelphia: In its inaugural year as the Official Library of Beer Week, the Free Library presents an exhibition on local beer history featuring historic maps, documents and images from the Free Library's collections.
International Great Beer Expo
Saturday, June 1, 1:30 p.m.
Tickets: $46: VIP, $75
Head south to the second massive tasting during Beer Week. Taste test more than 100 beers from 50 brewers at the fifth annual International Great Beer Expo at the Navy Yards, with proceeds benefitting the Committee to Benefit the Children. Tickets are available online, with designated driver passes for $10.
Craft Beer Day On East Passyunk Avenue
Sunday, June 2, 11 a.m.-2 a.m.
East Passyunk in South Philly gets into Philly Beer Week spirit with a full 15-hour day of craft-beer events. Try new eats, meet brewers and quench your thirst for craft beer. Eight East Passyunk bars host events all day, from beer brunch to home brew demos to happy hours.
Philly Beer Week Garden
June 3-7
Head to the historic Shambles at Headhouse Square nightly June 3-7 for the Philly Beer Week Garden to enjoy special one-offs and rare brews alfresco, plus live tunes and food from South Street Headhouse District restaurants. The Garden will be open nightly June 3-7, and admission is free, with brews and bites on a pay-as-you-go basis.
Philly's Backyard Beer Garden
June 6, 5-8 p.m.
Tickets: $25
At the Four Seasons Hotel, kick back with Dock Street ales during the Backyard Beer Garden. Try the exclusive new summer Beer Four All Seasons collaboration, "Crackle & Squeeze," a cracked pepper and Meyer lemon-laced Dock Street brew made just for the Four Seasons Philadelphia. A $25 entry fee to the beer garden allows for unlimited beer tastings in a commemorative cup, but snacks are pay as you go. Tickets are available online.
Fishtown Festivale
Saturday, June 8, Noon-8 p.m.
Johnny Brenda's, Frankford Hall and Fette Sau team up to bring beer lovers the second annual Fishtown Festivale, an outdoor daylong beer carnival with DJs, a dunk tank, fine food, dessert from Little Baby's Ice Cream and a heady mix of classic German lagers and full-flavored craft ales.
Dock Street Free Music Fest
*Sunday, June 9, 2-7 p.m.
Finish out the 10-day beer bash with a final daylong music festival. The fifth annual Dock Street Free Music Fest draws crowds to West Philadelphia with free live music all afternoon, plenty of Dock Street brews, delicious pizza and outdoor games like canjam and ladder toss. The live music lineup includes On the Water, Post Sun Times, Norwegian Arms and more.
Visit Philly Beer Week for ticketing information, details and a schedule of events.
PATH: http://www.uwishunu.com/tag/philly-beer-week/feed/image/
June 7, 2013Frankford Hall, Fette Sau And Johnny Brenda's Team Up To Host The Fishtown FestivALE Block Party This Saturday, June 8

June 6, 2013Tonight Picks: Philly Beer Week Happenings, The Beer Garden At The Porch At 30th Street, An Outdoor Movie And Beer Pairing At City Tap House, And Much, Much, More

June 4, 2013Cheers! Rave Reviews Continue To Pour In For Philadelphia's Beer Scene And Victory Brewing Company's Summer Love Ale

June 3, 2013Philly Beer Week Picks: Fun With Beer At Competitions, Contests And Game Nights During Philadelphia's Annual Beer Festival, Through June 9

Uwishunu covers everything fun and exciting happening in Philadelphia — read it daily for the latest on restaurants, bars, events, festivals, arts, music, hotels and more.