Federal Donuts
Line-up for donuts, fried chicken and coffee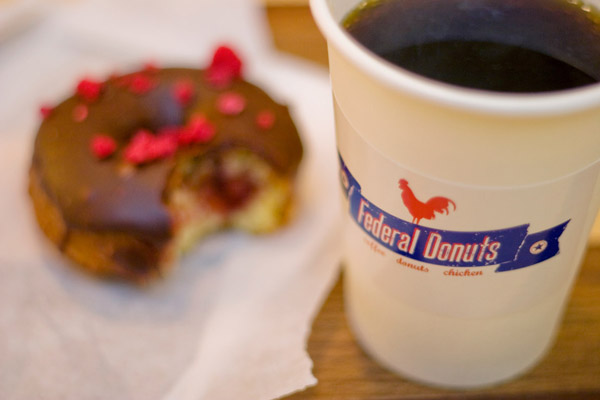 Description
The lines out the door explain it all; people across the city crave deep-fried joy. The original location for Federal Donuts in Pennsport has perfected the combination of Korean-style fried chicken and delectable donuts, selling out regularly since opening in the fall of 2011.
Early risers can choose from fancy donuts with changing flavors like mint chocolate cookie, lemon bar, maple bacon and spicy PB&J or hot and fresh donuts with a dusting of strawberry fennel, turkish mocha and more.
Fried chicken aficionados wait in line regularly to sample the ever-rotating list of rubs and glazes including dill pickle, coconut curry and cowboy coffee.
Coffee, of the hot and iced varieties, round out the incredible delicacies available at this triple-threat.
Insider Tip
Be sure to follow Federal Donuts' excellent Twitter account for the latest flavors available and chicken/donut availability updates.
PATH: http://www.uwishunu.com/tag/federal-donuts/feed/image/
March 6, 2014Opening Alert: Federal Donuts Is Set To Open Its New University City Location On Monday, March 10; Get Excited For Brand New Donut And Fried Chicken Flavors Coming To 3428 Sansom Street

January 29, 2014Super Bowl Sunday In Philly: Top Picks For Where To Watch The Big Game Or Order Take-Out For Your Party

December 30, 2013Looking Ahead: Our Roundup Of 14 Restaurant Concepts We Can't Wait To Open On The Philadelphia Dining Scene In 2014

Uwishunu covers everything fun and exciting happening in Philadelphia — read it daily for the latest on restaurants, bars, events, festivals, arts, music, hotels and more.
Details
Get Directions
1219 S 2nd St. Philadelphia, PA 19147
(267) 687-8258
Website
Neighborhood:
In the neighborhood
Restaurants & Dining

1163 S. Seventh St.
Philadelphia, PA 19147
(267) 886-9803
Website

View more Restuarants & Dining

Museums & Attractions

1100 South 2nd Street Philadelphia, PA 19147
(215) 336-3050
Website

View more attractions