Top 12 Family Friendly Attractions
Philadelphia attractions where kids can learn, play and explore
Philadelphia offers a ton of great activities for families that go far beyond must-see historic attractions like Independence Hall and the Liberty Bell. Explore a dozen of our favorite family-friendly museums, parks and attractions that will keep the entire family engaged and happy throughout your entire trip.
Complete your family vacation with a stay in one of Philadelphia's fantastic hotels. When you book the popular Visit Philly Overnight Hotel Package™, your car stays FREE.
1. Philadelphia Zoo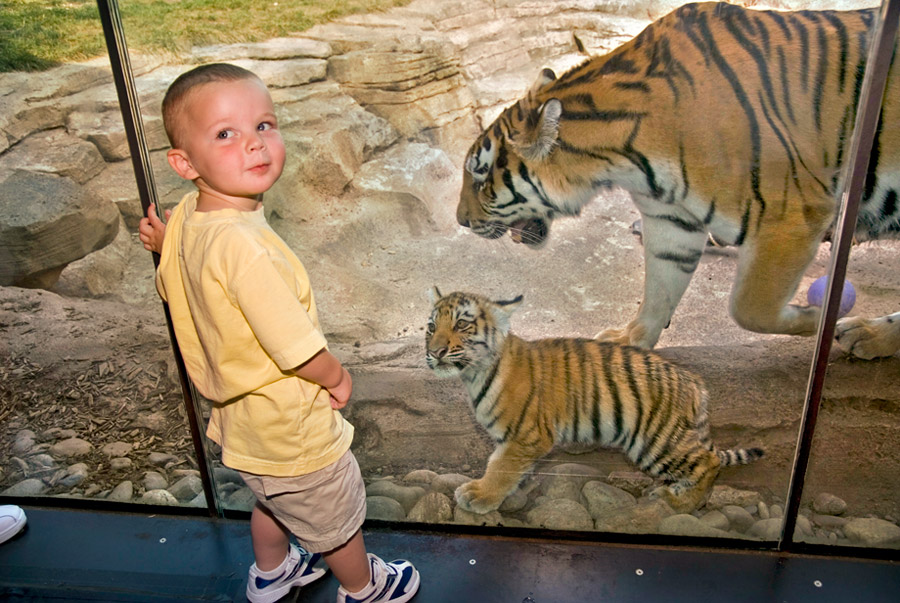 (Photo by B. Krist for Visit Philadelphia)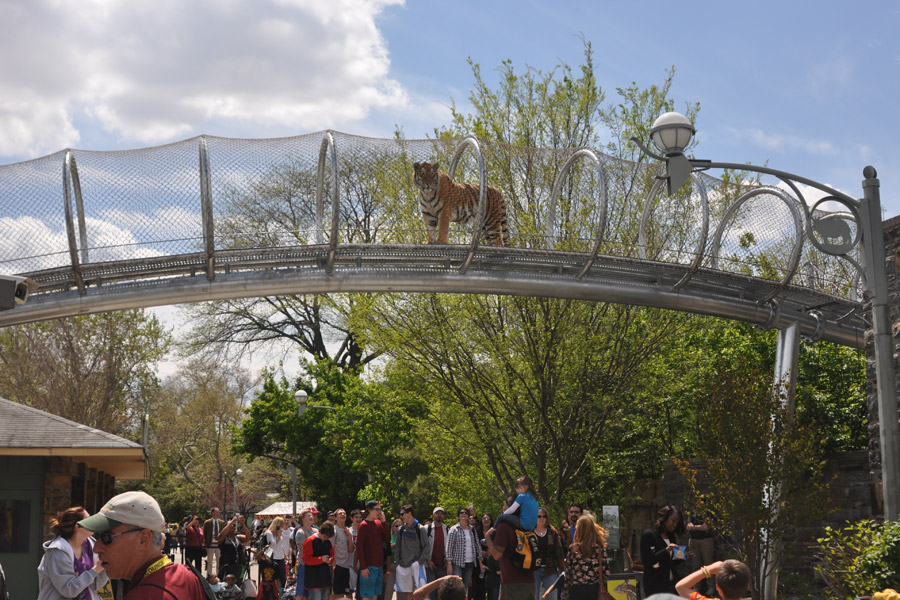 Zoo360 let's the animals walk high above the guests for a one-of-a-kind experience. (Photo courtesy the Philadelphia Zoo)
America's first zoo and one of the region's foremost conservation organizations, the Philadelphia Zoo is home to nearly 1,300 animals, many rare and endangered. The zoo offers a first-in-the-world animal travel and exploration trail system—called Zoo360—that enables primates and big cats to move above and across the main visitor pathway. Award-winning exhibits include First Niagara Big Cat Falls, the McNeil Avian Center, the PECO Primate Reserve and the newest exhibit KidZooU: Hamilton Family Children's Zoo & Faris Family Education Center.
2. Franklin Square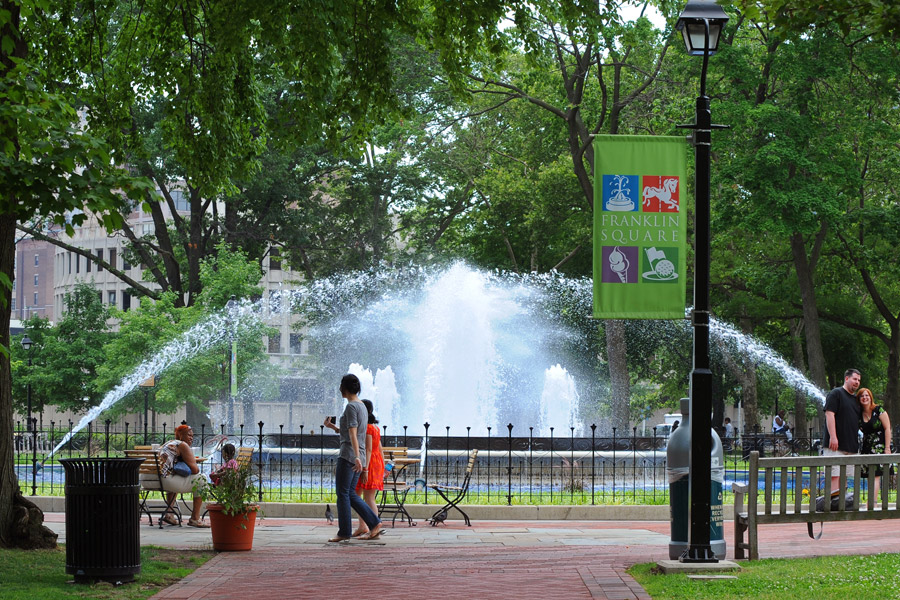 (Photo by R. Kennedy for Visit Philadelphia)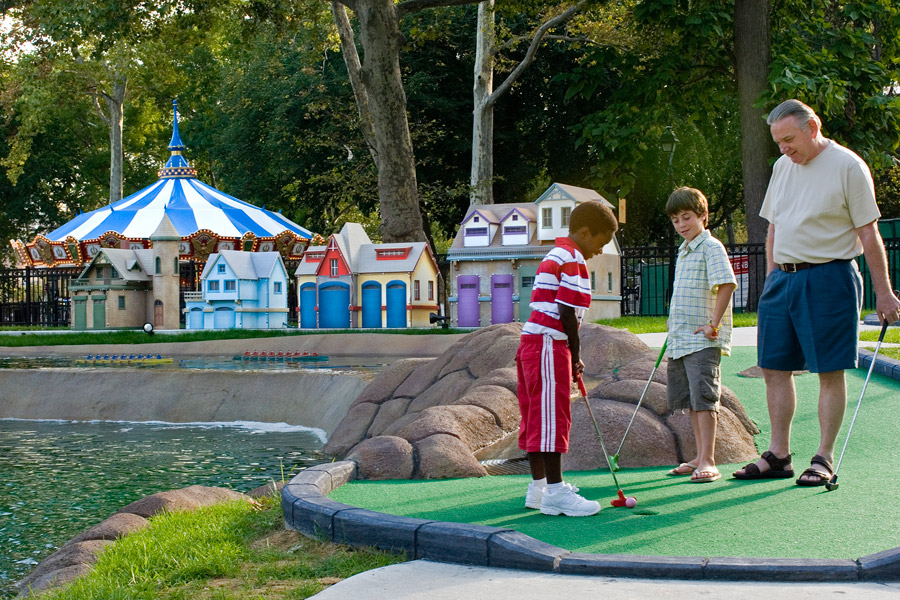 Putt your way through Philadelphia landmarks at Franklin Square. (Photo by J. Holder for Visit Philadelphia)
One of William Penn's original five squares, Franklin Square is a modern and fun family park, with a Philly-themed miniature golf course, a restored marble fountain, playgrounds and an old-fashioned carousel featuring some famous Philly horses. When hunger strikes, SquareBurger delivers with burgers, fries and shakes from Starr Restaurants.
3. Independence National Historical Park
(Photo by R. Kennedy for Visit Philadelphia)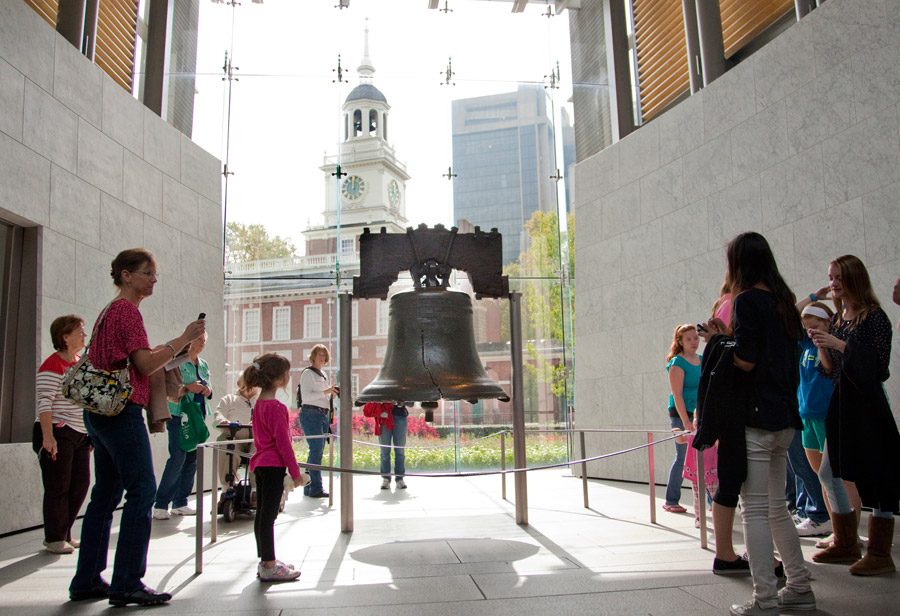 Get up close to the famous Liberty Bell on Independence Mall. (Photo by M. Fischetti for Visit Philadelphia)
The Liberty Bell Center, Independence Hall, Congress Hall, the Benjamin Franklin Museum and the Bishop White House are just some of the buildings that make up Independence National Historical Park in Historic Philadelphia. In the summer months, the park offers ranger-led walking tours, including Dr. Franklin's Philadelphia, History Beneath Our Feet and Underground Railroad.
Bonus: Liberty 360 at the PECO Theater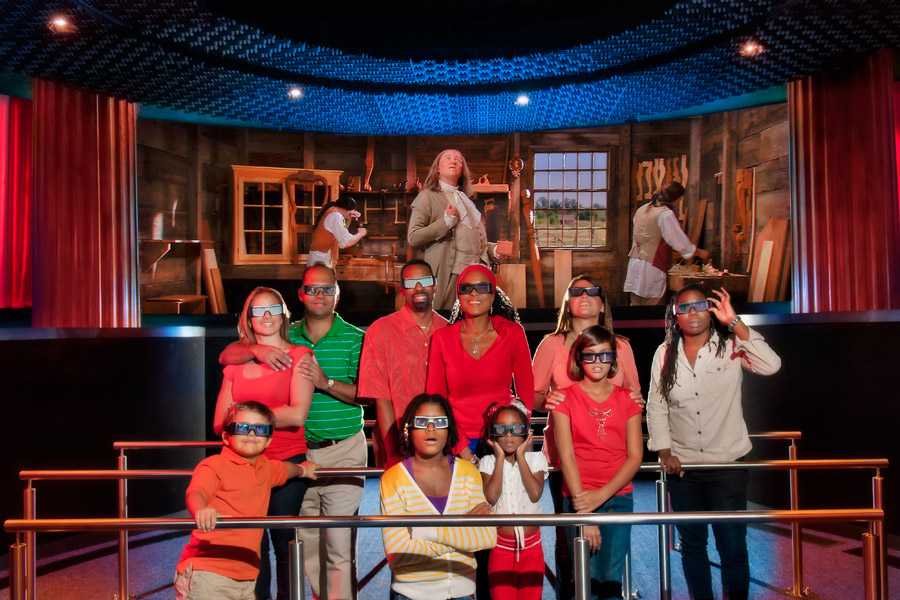 Experience history in 3-D with Ben Franklin as your guide at Liberty 360. (Photo by R. Kennedy for Visit Philadelphia)
Liberty 360 3D Show surrounds visitors as they take an immersive, 360° patriotic journey, led by none other than Benjamin Franklin, to discover our nation's symbols of freedom—from the bald eagle to the Statue of Liberty. Inside the Historic Philadelphia Center's customized, wraparound PECO Theater, the 15-minute indoor show uses the most modern technology of its kind to spotlight the most treasured American value—liberty. The Historic Philadelphia Center is where kids can participate in Colonial For a Day, a program that outfits them in traditional children's clothing from 18th-century Philadelphia. Girls get dresses and colorful sashes, while boys wear shirts and haversacks for the day.
4. Betsy Ross House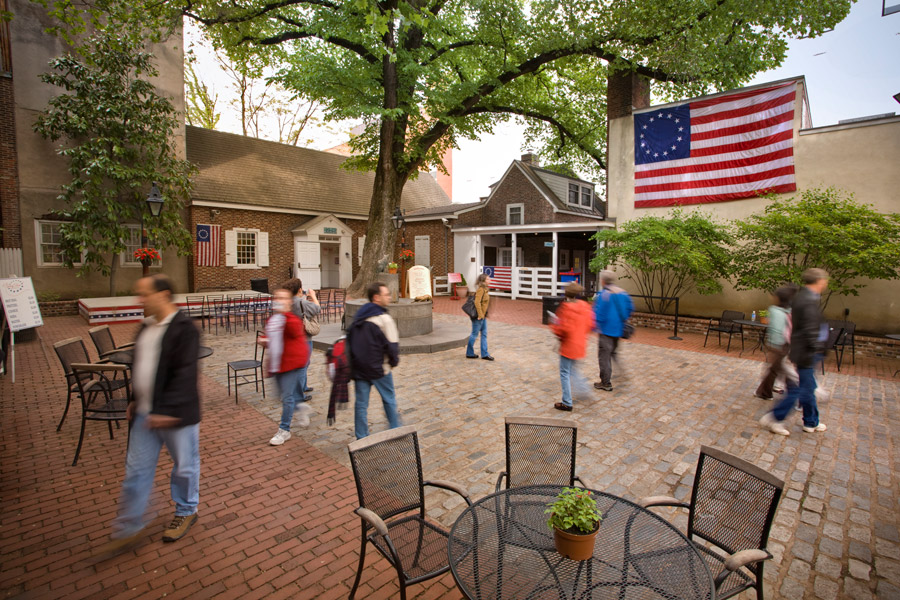 (Photo by G. Widman for Visit Philadelphia)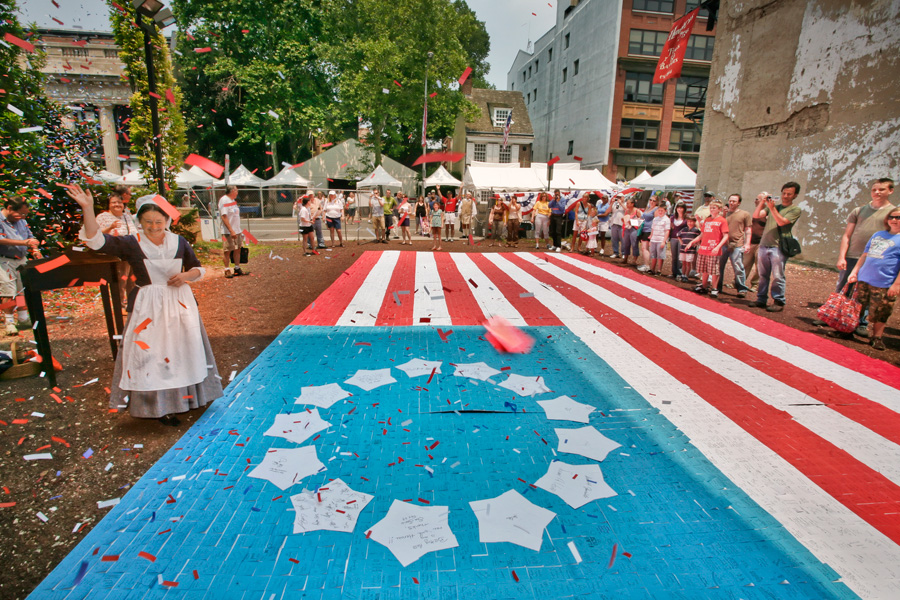 Celebrate the American Flag at the Betsy Ross House in Historic Philadelphia. (Photo by G. Widman for Visit Philadelphia)
America's most famous flag maker greets guests in her interactive 18th-century upholstery shop at the Betsy Ross House Visitors learn about Betsy's life and legend from the lady herself. Summer brings a weeklong, annual Flag Fest celebration with free events every day. Also, every morning at 10 a.m. in the summer, kids can participate in a free flag-raising event with Betsy and a Colonial friend.
5. The National Constitution Center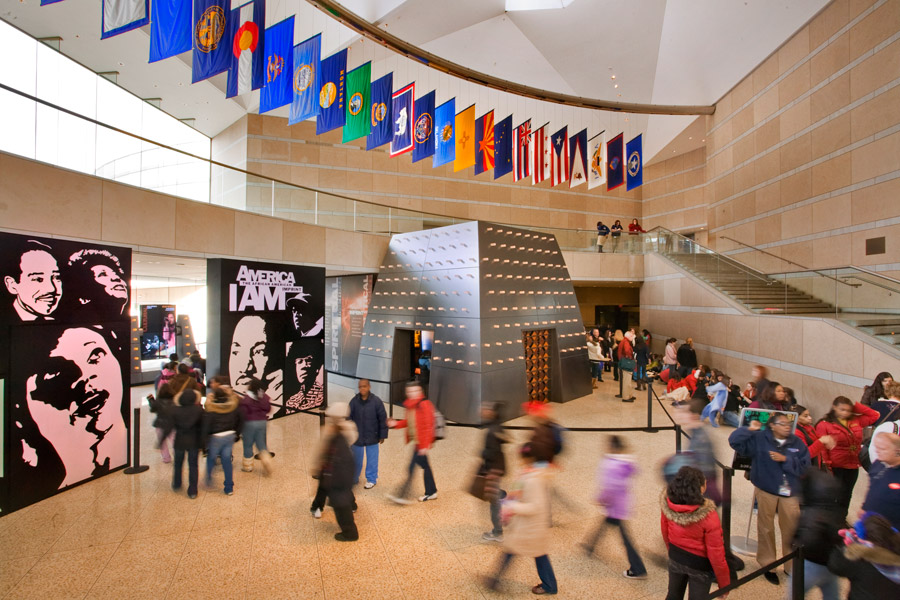 (Photo by G. Widman for Visit Philadelphia)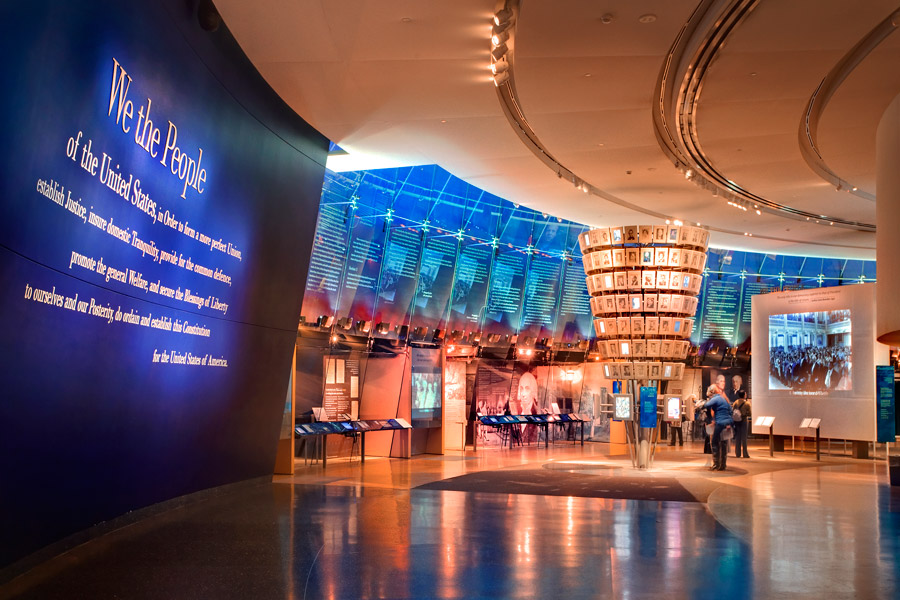 The National Constitution Center is the first and only museum dedicated to the U.S. Constitution. (Photo by G. Widman for Visit Philadelphia)
The National Constitution Center is America's first and only museum dedicated to the U.S. Constitution. Highlights include interactive exhibits; the powerful, multimedia Freedom Rising performance; Signers' Hall, filled with life-sized statues of the signers of the U.S. Constitution; and nationally touring exhibitions. Special family-friendly programs take place throughout the year that celebrate civic holidays like Presidents' Day, Veterans' Day, Tax Day, Earth Day and more.
6. Please Touch Museum®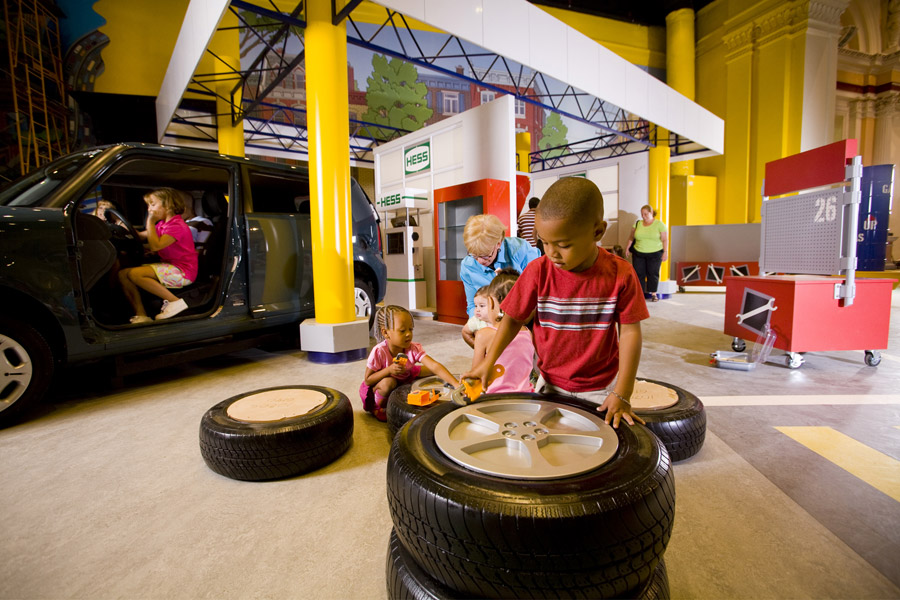 (Photo courtesy the Please Touch Museum)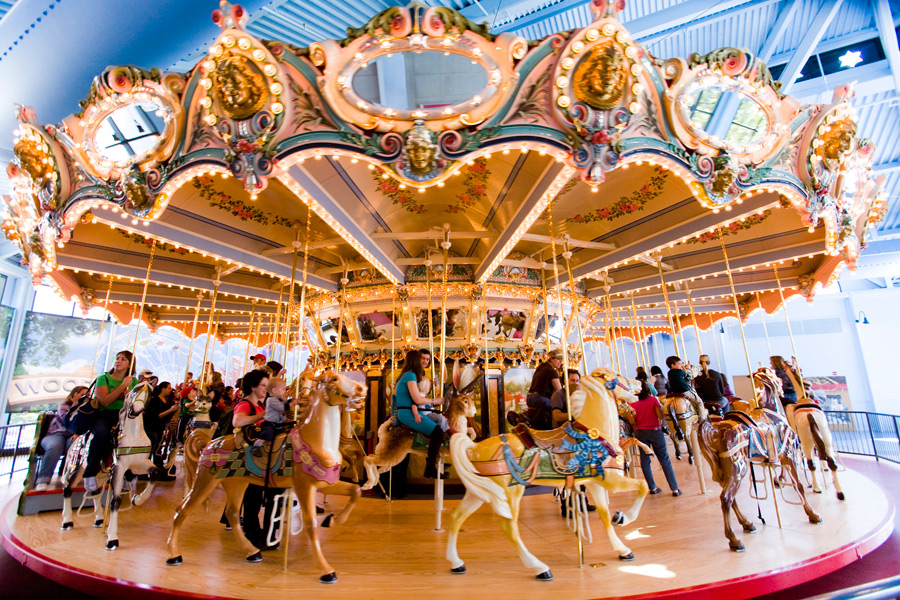 Take a spin on a historic carousel at the Please Touch Museum (Photo courtesy the Please Touch Museum)
Housed in Fairmount Park's Memorial Hall, the kid-centric Please Touch Museum® includes two full floors of interactive exhibit zones, plus a fully restored 100-year-old carousel. Youngsters can play and pretend amid Alice's Wonderland, River Adventures and other hands-on fun. And on Target First Wednesdays, the museum stay opens 4-7 p.m. with $2 admission.
Bonus: Smith: The Kids' Play Place in the Park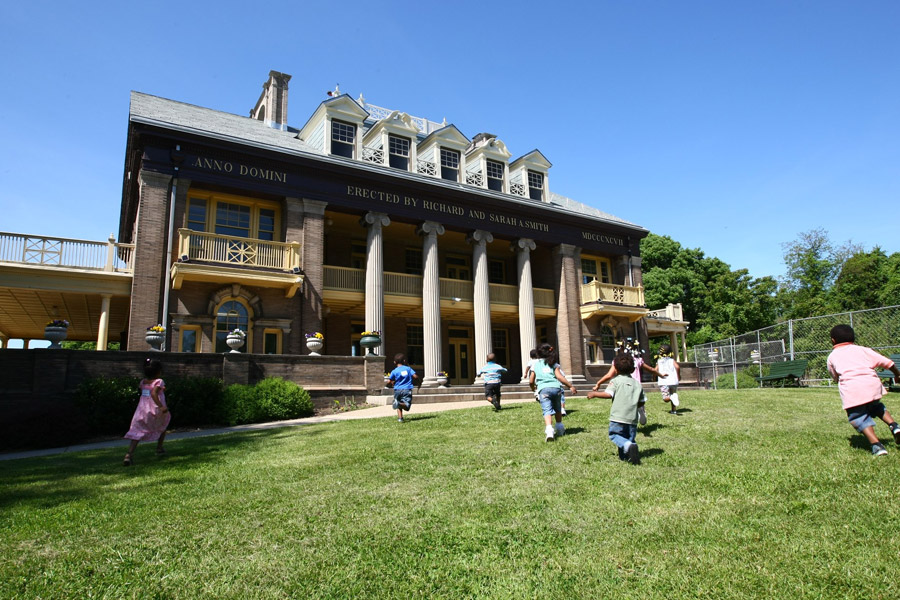 (Photo courtesy D. DiFuntorum for Smith)
Featuring the iconic Ann Newman Giant Wooden Slide, Smith Memorial Playground & Playhouse —one of the oldest playgrounds in America dating back to 1899—offers children (ages 10 and under) a free, safe place to play, jump, swing and climb. For children five and under, Straz Land features more than 20 pieces of age-appropriate play equipment, and at the 16,000-square-foot Playhouse, kids run the show.
7. The Franklin Institute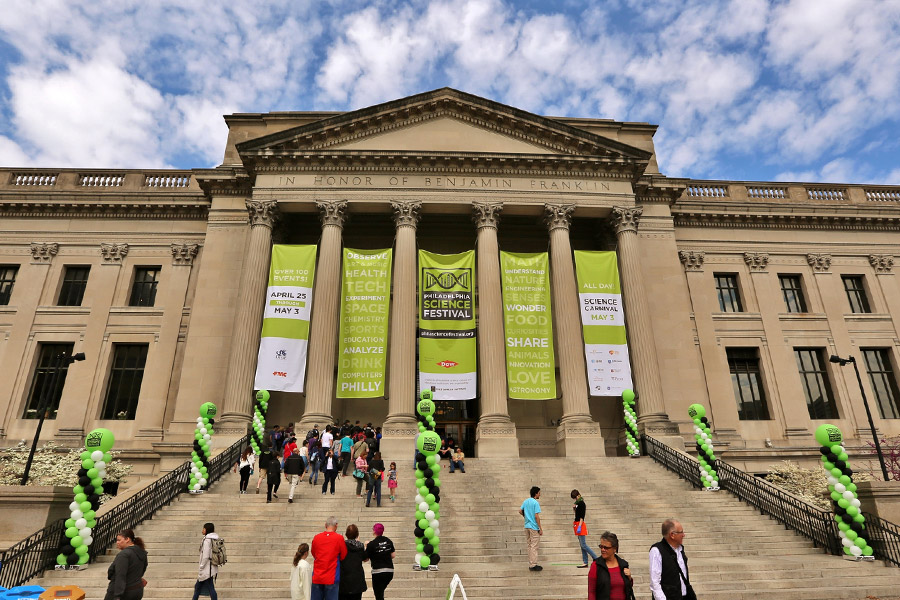 (Photo by Darryl Moran courtesy The Franklin Institute)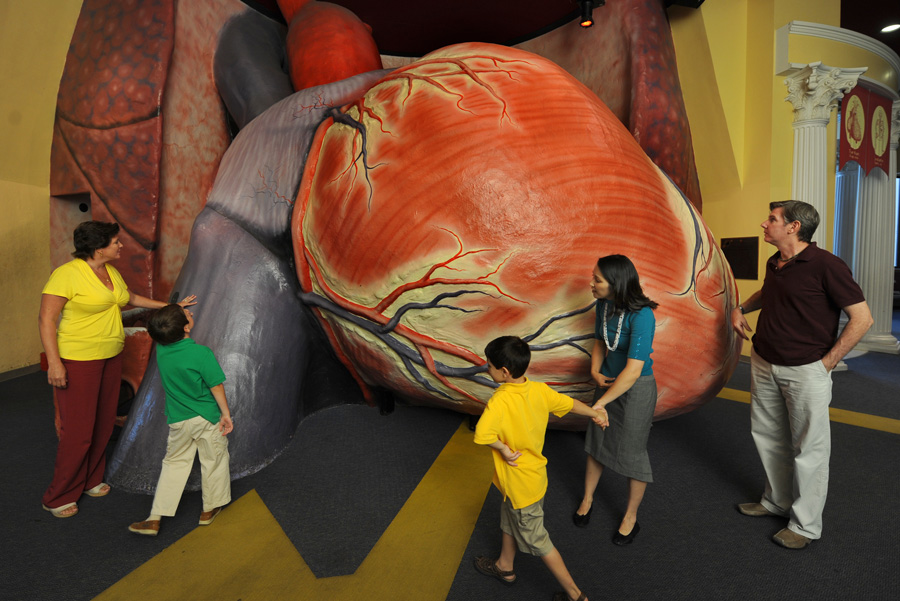 Walk through a gigantic heart at the Franklin Institute. (Photo by R. Kennedy for Visit Philadelphia)
The Franklin Institute, the region's premier science museum, features an IMAX theater, the Fels Planetarium and a full city block of kid-friendly exhibitions, such as the walk-through Giant Heart, Space Command, Sports Challenge, Electricity and Changing Earth. In June 2014, the museum opened the doors to its 53,000-square-foot Nicholas and Athena Karabots Pavilion. The centerpiece of the dazzling three-story addition is the 8,500-square-foot permanent exhibit Your Brain, featuring an unprecedented collection of interactive, high-tech exhibitions. The expansion also features space for traveling exhibitions and a new rain garden and atrium with a freely moving aluminum "Shimmer Wall" offering a utopian chill-out spot for families seeking a break.
8. Sister Cities Park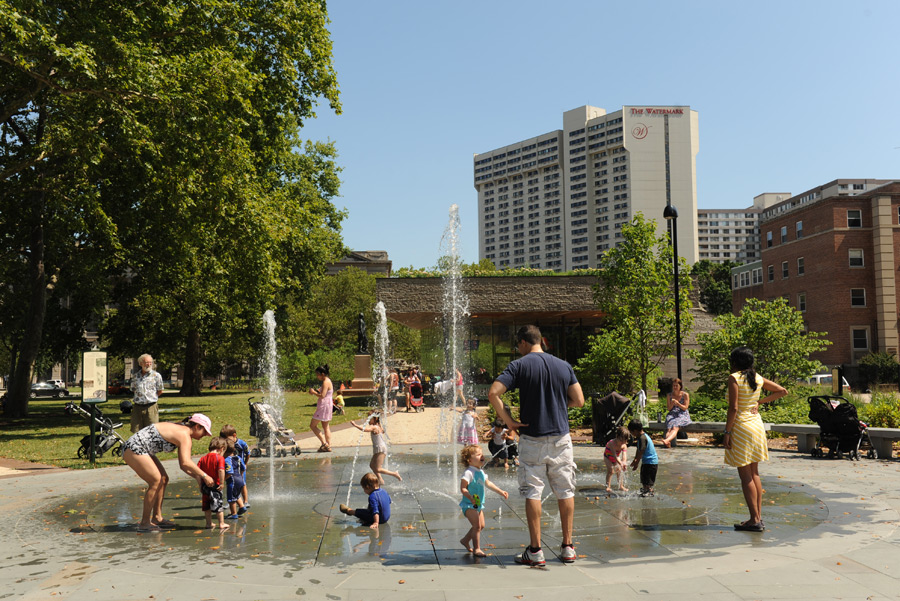 (Photo courtesy Center City District)
The nearby Wissahickon Valley is the muse for Sister Cities Park, where a miniature creek, wading pool (with lifeguard), green-roofed cafe and interactive bluestone fountain are the main hot-weather attractions. The park pairs up with the Parks and Recreation department, the Free Library of Philadelphia, The Academy of Natural Sciences and The Franklin Institute for nearly daily activities. Mondays are for make-and-take crafts; Tuesdays are all about outdoor exploration; liquid nitrogen demos happen on designated Wednesdays; and every Thursday, live animals cross the street for a quick visit.
9. The Academy of Natural Sciences of Drexel University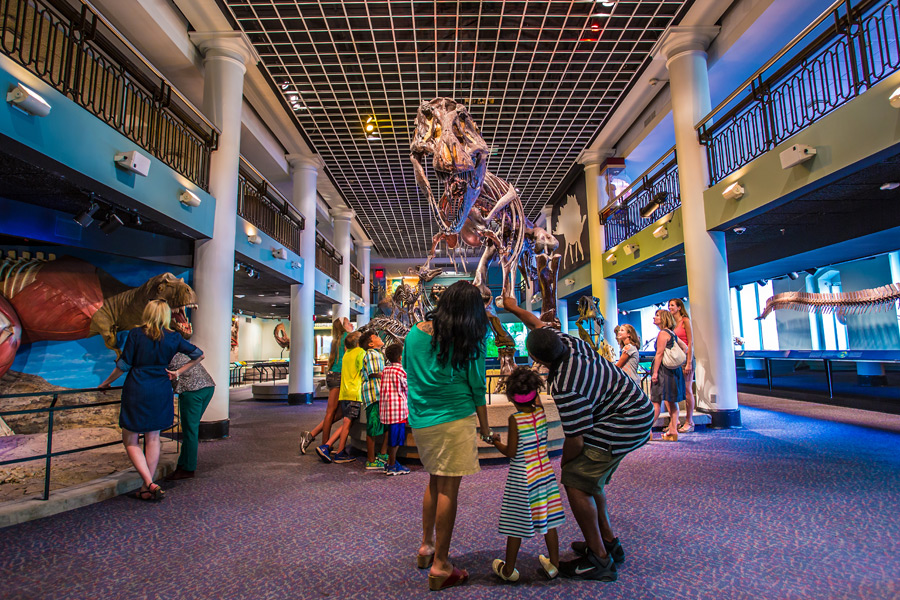 (Photo by J. Fusco for Visit Philadelphia)
For more than 200 years, the Academy of Natural Sciences of Drexel University has showcased their amazing collection of fossils and fauna in this impressive space on the Benjamin Franklin Parkway. Grown-ups always find it difficult to pull their tiny T-Rex fans away from the humungous displays of ancient bones in Dinosaur Hall; others can't get theirs out of the sandbox and animal petting area. Come August, insect-obsessed kids score big with weekend-long Bug Fest where roaches race, worms paint and crickets become snack foods.
10. Adventure Aquarium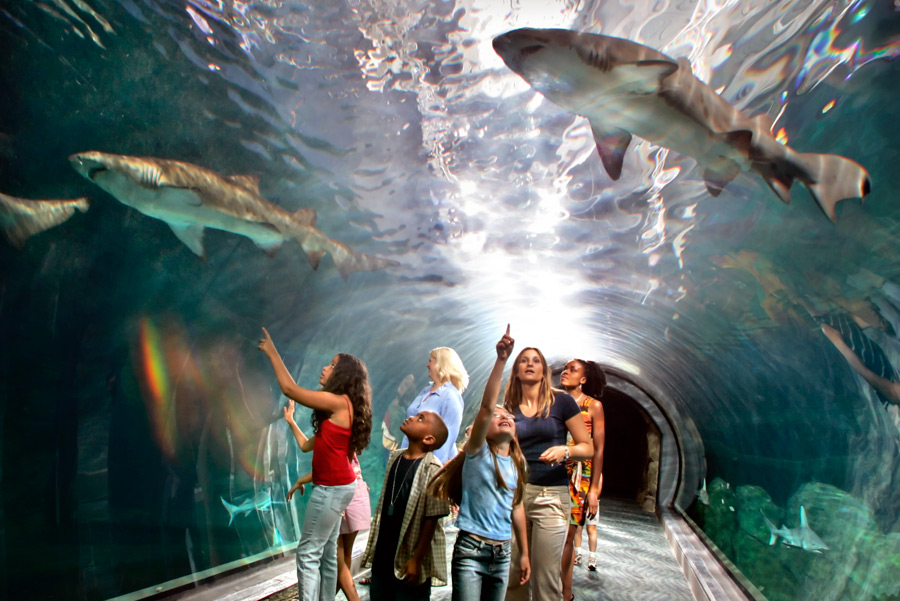 (Photo by G. Widman for Visit Philadelphia)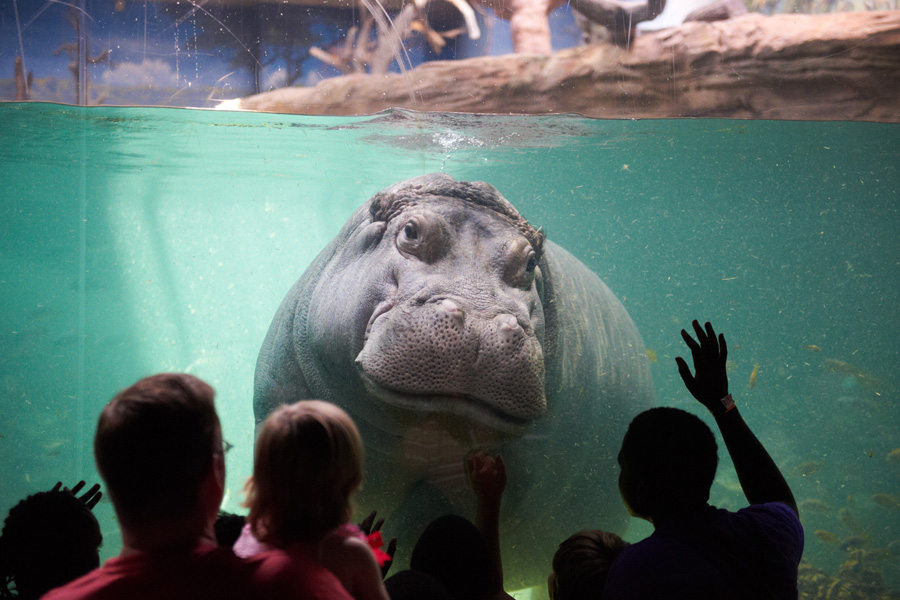 Come face-to-face with a hippo at Adventure Aquarium.(Photo by J. Fusco for Visit Philadelphia)
Featuring more than two million gallons of water and 8,500 animals, guests can count on hands-on activities, animals, exhibits and unforgettable moments at Adventure Aquarium, located on the Camden Waterfront. Visitors can walk through a suspended Shark Tunnel; explore KidZone, a virtual playground under the sea; and get nose-to-nose with underwater hippos in the all-new Hippo Haven experience. The 760,000-gallon Ocean Realm is home to sea turtles, stingrays, schooling fish and sharks, including the only great hammerhead on exhibit in the country. Adventurous types can roll up their sleeves to pet and feed stingrays, or touch shrimp, lobster, starfish, crabs and sharks.
Bonus: Camden Children's Garden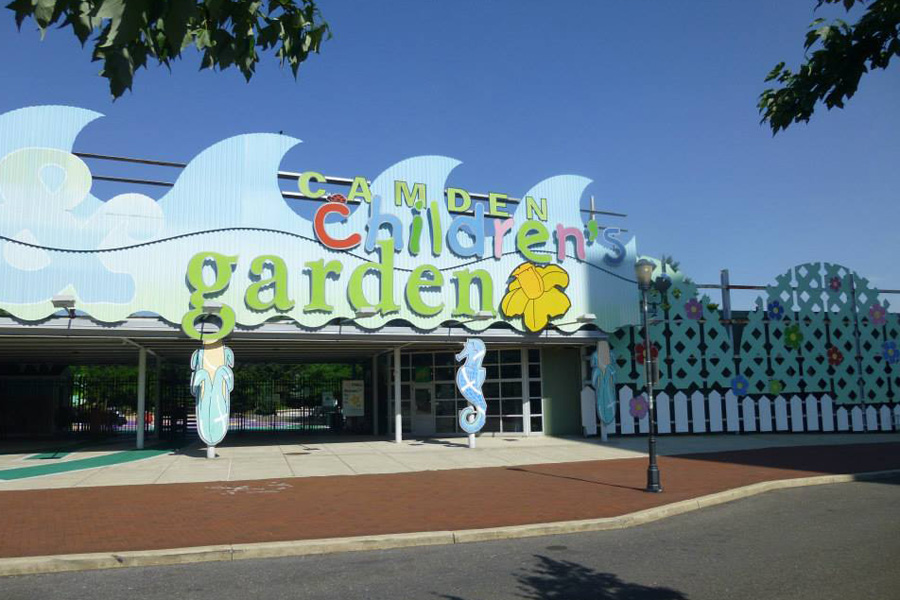 (Photo courtesy Camden Children's Garden)
Consisting of the Butterfly, Railroad, CityScapes, Picnic, Fitness, Dinosaur and Storybook Gardens, the four-acre Camden Children's Garden provides horticultural experiences for creative and imaginative play. The garden also includes three indoor attractions: the popular Philadelphia Eagles Four Seasons Butterfly House, the tropical exhibit Plaza de Aibonito and Ben Franklin's Secret Workshop, as well as more outdoor attractions such as a Tree House, Garden Carousel, Arrow River Train and the Spring Butterfly Ride.
11. Sesame Place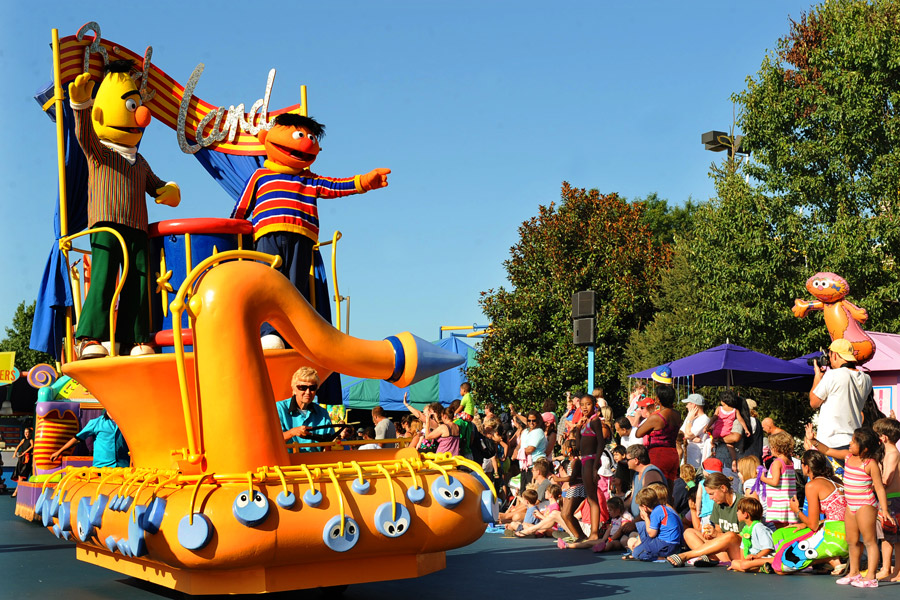 (Photo by R. Kennedy for Visit Philadelphia)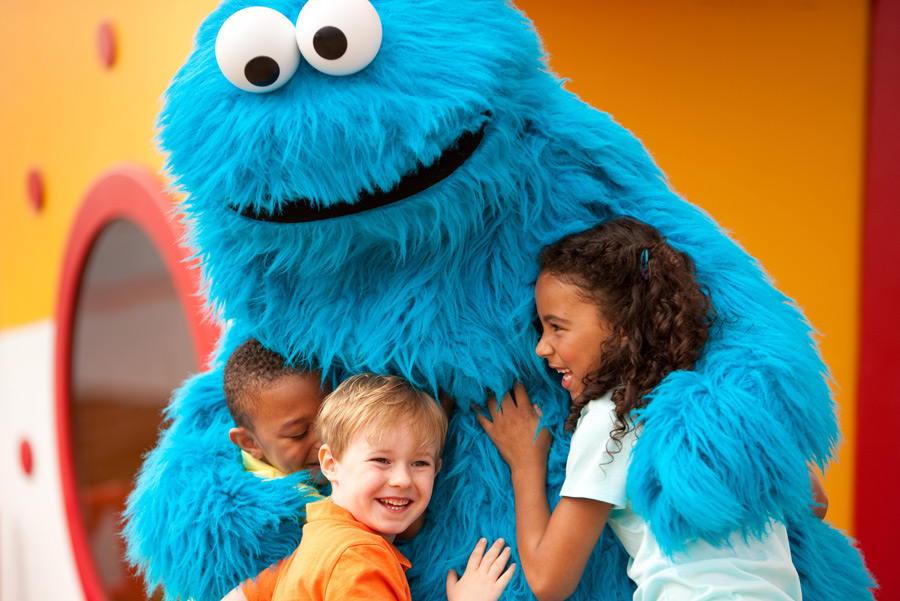 (Photo courtesy Sesame Place)
Sesame Place® is the nation's only theme park based entirely on the award-winning show Sesame Street®. Located just 30 minutes from Philadelphia, Sesame Place is where parents and children can share in the spirit of imagination together through whirling rides, water slides, colorful shows and furry friends. New in 2014, Cookie's Monster Land is a colorful and imaginative new land features five exciting rides, a three-story net climb and a soft play area for toddlers.
12. The Independence Seaport Museum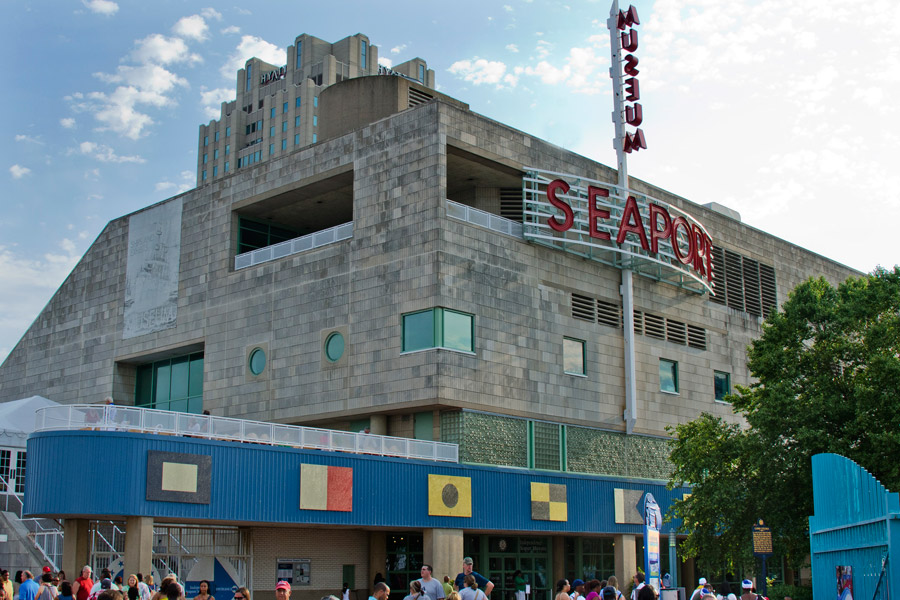 (Photo by R. Kennedy for Visit Philadelphia)
After checking out the boat-building shop at the Independence Seaport Museum, kids can explore the Spanish-American War Cruiser Olympia and the World War II Submarine Becuna. Kids (and their parents) can also rent rowboats, built in the museum's boat shop, or kayaks to explore the calm waters of the basin and get a close-up view of the historic ships. Every Saturday, kids can participate in Seafarin' Saturdays with activities designed especially for them.